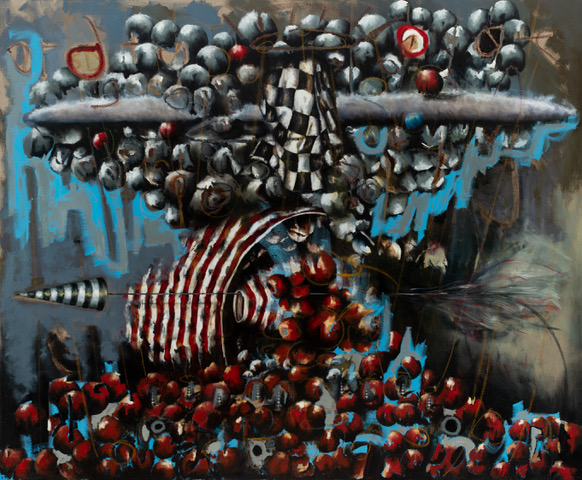 Heartstring by Ben Bridgers, oil on linen, 56 x 68BEN BRIDGERS
BACK BURNER/PAINTINGS
THIS SHOW WILL BE EXTENDED-DATE TO BE DETERMINED!
Ben Bridgers' enigmatic works combine the hallucinatory perspective of an outsider artist–whose first passion was skateboarding — with the skills of an accomplished painter who has taught at universities around the country and abroad.
Imagery from zines and crude vhs videos documenting skateboarding and punk music culture informed Bridgers earliest aesthetic sense, along with another passion: art.   "Skateboarding in the 1980's was raw, illegal, and generally, unaccepted," says Bridgers. "As a teenager, I would occasionally ditch school, go skate, and spend part of my day at the local art museum, to wander the galleries.  At the time I wasn't familiar with art history, but those paintings were more interesting than anything else going on."   He developed a deep appreciation for the artistry of painting as it developed over time, as well as for the visceral process of creating art.  He still stretches his own canvas over bars he has made, prepares his surfaces using traditional rabbit skin gesso, and paints in oil, a medium which, like skateboarding, demands patience and practice for mastery.
Bridgers' juxtapositions of finely detailed figures or forms are often subtly illuminated within a dark void, reminiscent of old masters.  "My paintings are deeply embedded in historical and classical methods, materials, and processes while exploring a curiosity with the magic, mystery, and perversity of nature, " says Bridgers.  "I continually return to themes surrounding transitory events such as home, landscape, migration, love, loss, absence, and how these themes relate to the natural compulsion to continue."   Bridgers works on several canvases at a time over many months, as each work gradually reveals itself.
Ben Bridgers grew up in the rural farming community of Pilot, North Carolina.  He  earned an MFA in Painting and Drawing from the University of Georgia's Lamar Dodd School of Art in Athens, and studied and taught at the university's campus in Cortona, Italy.  He was an Associate Professor of Art in Painting and Drawing at the University of Redlands in California before returning to North Carolina in 2012.
Bridgers has maintained an active studio practice over the past 30 years and exhibited his work in galleries and museums across the United States. His work is held in public and private collections throughout the United States, Italy, and Japan. Currently, Bridgers lives and works in Durham, NC and is the Manager of the Park Collection and Exhibitions at the North Carolina Museum of Art.
PAST EXHIBITIONS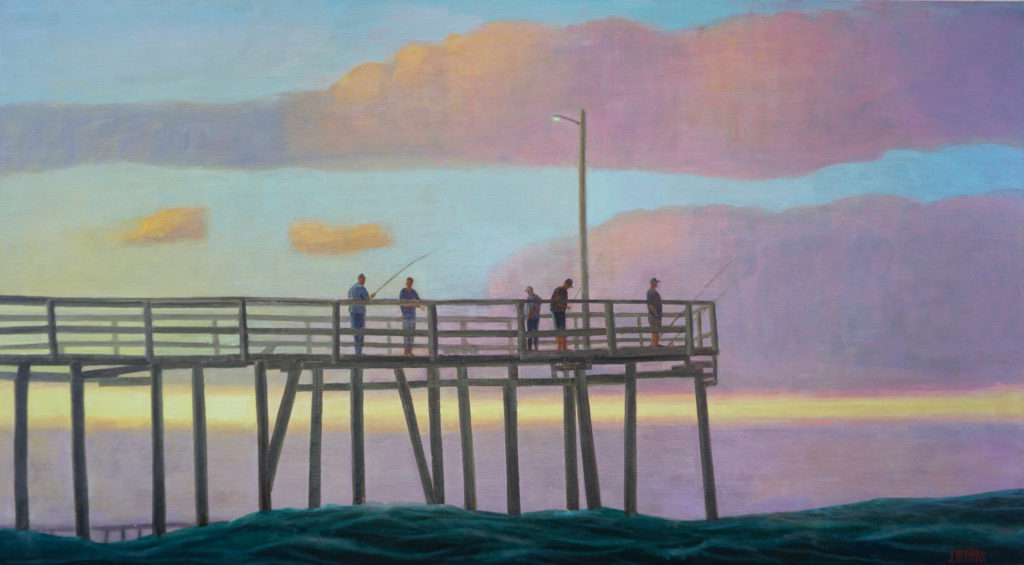 JOHN BEERMAN
THE SHAPE OF LIGHT/PAINTINGS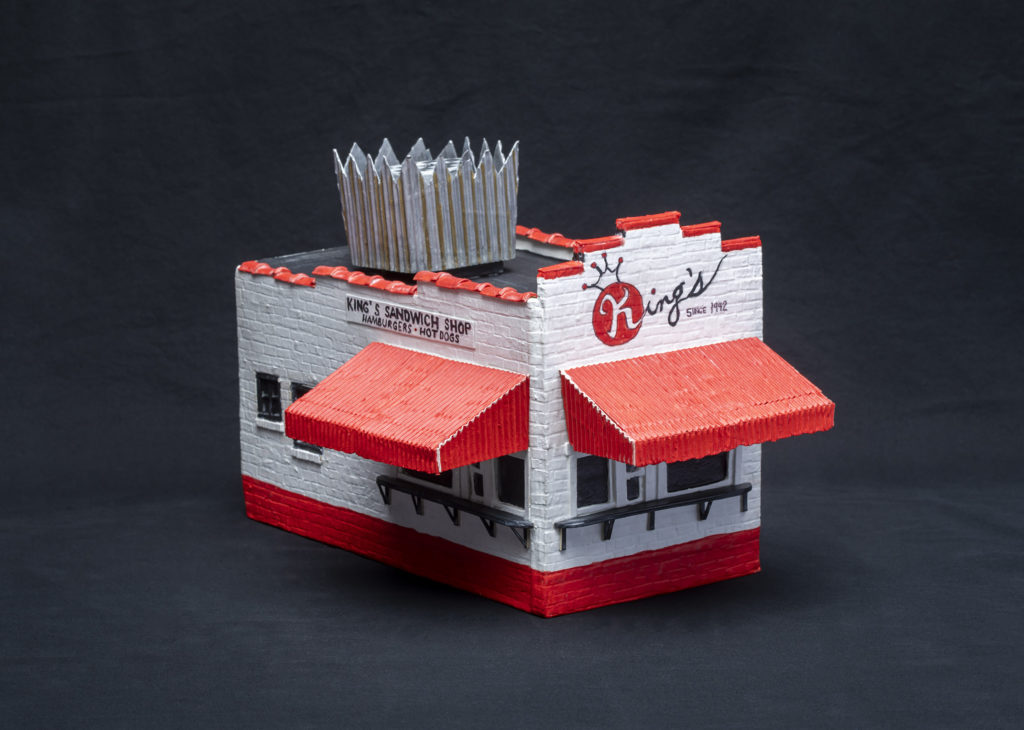 STEPHEN COSTELLO
PLACES/SCULPTURE
One of the most successful shows in the gallery's history, now extended through February 29th with New Work!
"I have always found the natural world a gateway to the greater mysteries and meanings of life," says John Beerman of the work in The Shape of Light, which features the intricate brushwork and subtle color harmonies for which the artist is well-known. "Whether through landscape or the human form, I try to find ways to bring forth light and life." The show includes scenes from Italy, and across North Carolina from the coast to the mountains, as well as intimate portraits ranging from quiet studies to a monumental nude.  Several paintings depict  the countryside around Chatwood in Hillsborough, and Bramasole in Cortona, Italy, homes of the writer Frances Mayes, where Beerman finds inspiration. The artist lives in Hillsborough; his iconic paintings are found in major museums and collections across the country.
Also opening at Craven Allen is Stephen Costello's Places, sculptures of buildings from the humble to the grand, created from recycled materials in the artist's quirky, lively style. While the exhibition includes structures from Washington, DC to Key West, locals may be particularly interested in the Durham's NC Mutual Building, depicted in its original cantilevered design (before construction challenges necessitated buttressing in the corners), as well as local icons like King's Sandwich Shop and Ayr Mount.   The artist divides his time between North Carolina and Washington, DC; this is his first major show.
---
COMING MARCH 14TH: BEN BRIDGERS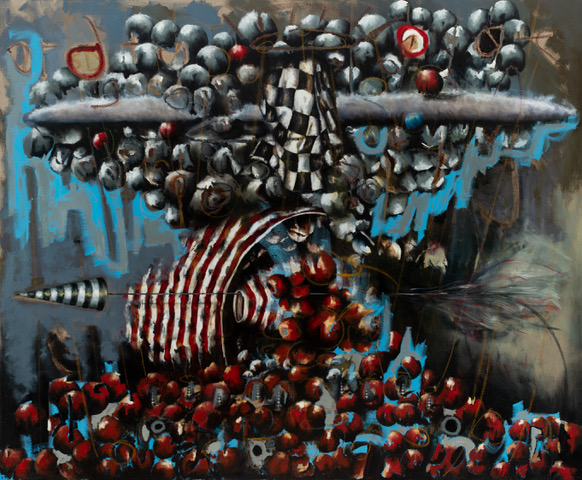 PAST SHOWS: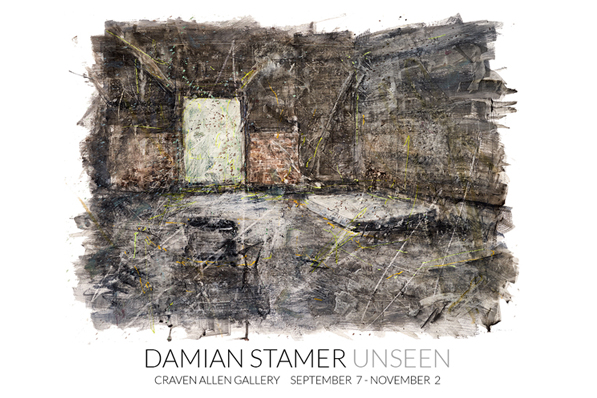 FROM INDYWEEK:  
On view through November 2 at Craven Allen Gallery, Stamer's exhibit "Unseen" is a triumph of both technique and content.
TO READ MORE, CLICK HERE!
DAMIAN STAMER
UNSEEN
Watercolors and Works on Paper
Opening at Craven Allen Gallery September 7th
Through November 2nd
Damian Stamer (b. American, 1982) received his Master of Fine Arts from the University of North Carolina at Chapel Hill as a Jacob K. Javits fellow in 2013 and his Bachelor of Fine Arts from the Herberger Institute of Art and Design and Barrett, The Honors College at Arizona State University (where he studied painting with Craven Allen Gallery artist Beverly McIver) as a National Merit scholar in 2007. He also studied at the Hungarian University of Fine Arts as a Fulbright grantee, and the State Academy of Art and Design in Stuttgart, Germany as a Rotary Ambassadorial scholar.
Stamer was last seen at Craven Allen Gallery with Greg Lindquist in conjuction with his exhibition Altered Land at the North Carolina Museum of Art. His first Craven Allen show was Crosscut, juxtaposing his work alongside photographs from the Jim and Jane Finch collection.  Recent museum exhibitions include Area 919 at Duke University's Nasher Museum, and The Things We Carry: Contemporary Art in the South at the Gibbes Museum in Charleston.  In 2019, his work will be seen in exhibitions in the United Arab Emirates and Japan.
Damian's contemporary paintings explore themes of memory and loss through formal and conceptual approaches. Detailed architectural forms reminiscent of his childhood memories of the South are combined with gestural brushstrokes that push and pull the images into existence. The artist lives and works in Durham, North Carolina.
STATEMENT
I paint places close to home, barns and abandoned buildings. As adolescents, my twin brother and I rummaged through rooms pregnant with secrets, inspecting forgotten objects in search of hidden treasures. Moldy mattresses whispered of sex, drugs, and shelter from the winter cold. Adrenaline of discovery often mixed with the fear of being discovered. Even today, standing in these seemingly empty places, you never know if someone had been here twenty years, or twenty minutes ago.
I am undoubtedly comforted by this landscape, and despite my many positive memories, these ruins also represent a past and present too often unseen. The industries that brought picturesque curing barns and incredible wealth to a small segment of society were built upon slavery, oppression, and denial of human rights. Although transgressions may be buried deep beneath the soil, many of the power structures that enabled these atrocities remain.
I am shaken by an old barn's history, yet I find beauty within it. Time is visible here. Quiet moments near the sublime when afternoon light rakes the grain of a fallen beam, or cloud-like stuffing erupts from a rotten chair. Violent and tender, this beauty hinges on the delicate nature of existence. These remnants are, like us, soaked with impermanence. We cannot escape a similar fate.
I depict these icons of the Carolinas not to monumentalize, but rather to question our identities embedded and reflected within them. Nostalgia, sentimentality, naiveté, violence, loss, guilt, fragility, and complicity coexist, and can prove difficult to reconcile.  What else can I still not see?
Press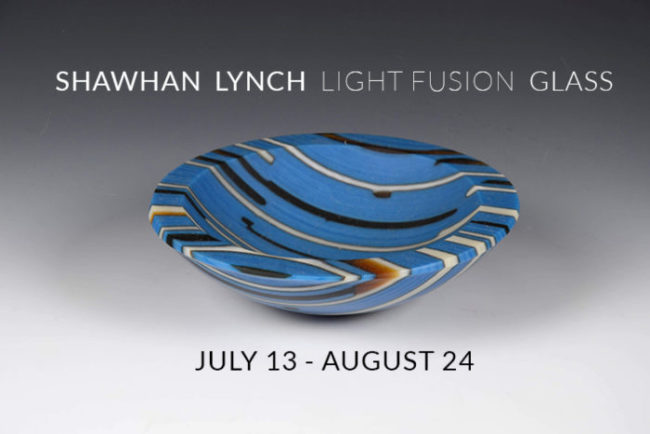 TONY ALDERMAN WATERLINE NEW PAINTINGS FROM THE NORTH CAROLINA COAST
SHAWHAN LYNCH LIGHT FUSION GLASS
Opening Reception: Saturday, July 13th 5 to 7 pm
Through August 24th
Durham — Two shows, Waterline: New Paintings from the North Carolina Coast by Tony Alderman, and Light Fusion, Glass by Shawhan Lynch, open at Craven Allen Gallery on Saturday, July 13, with a reception from 5 to 7 pm.
Tony Alderman was the first staff member of Craven Allen Gallery when owners John Craven Bloedorn and Keith Allen Wenger created the gallery upon purchasing the House of Frames business in 1992. His artistic skills were integral to the early success of the gallery and framing business, and now life has come full circle as Alderman returns there for his first solo show.
Alderman has created a noted career in paintings featuring nautical and coastal paintings, documenting the historic fishing communities of the North Carolina Coast. "I seek to capture in paint the convergence of the natural beauty of the coast with evidence of the lives of the people who have made their homes there. Our coast's salt marshes and sunsets, deserted train stations, and rusting water towers and old churches make for a visual feast." Although this way of life is under threat from pressures both environmental and economic, Alderman takes inspiration in the resiliency of its residents. His paintings are at once richly detailed, and spare in their compositions. He lives in Durham with his wife Catherine, but travels to the coast as often as possible.
Glass artist Shawhan Lynch also takes inspiration from nature, creating "kiln-formed linear seascapes and landscapes from memories of color, shapes and textures." Glass is worked in a complex series of steps involving both hot firing and cold work. She makes both functional bowls and platters in addition to standalone art pieces. She has a studio in the woods in Timberlake, North Carolina; this is her first solo exhibition.
The shows continue through August 24th.
Craven Allen Gallery is located at 1106 ½ Broad Street in Durham. Gallery hours are 10 a.m. to 6 p.m. Monday through Friday, and 10 a.m. to 4 p.m. on Saturday. For more information, please call the gallery at 286-4837 or visit www.CravenAllenGallery.com.

"Animals are survivalists. Humans are, too," says artist Kathryn DeMarco in her statement for We The Animals. Both DeMarco and Bryant Holsenbeck are inspired by the resilience of nature in the modern world; both are keenly aware of our use of resources, using recycled materials to create their artworks– without sacrificing the integrity of their artistic visions.
Kathryn DeMarco's new collages range in scale from small, intensely colorful works featuring animals, to several life-size nude self-portraits in black and white in which she seeks "… to capture some of the feelings of defiance, distress, vulnerability, wonder and power that are universal for all people and animals." DeMarco typically begins with a life drawing in charcoal, which she embellishes with two- and three-dimensional materials and paint; text is also incorporated into many of her pieces. From a distance the works have bold lines and strong graphic qualities which speak to her remarkable skills in painting and drawing; up close the details of the source materials of her collage work emerge, adding layers of meaning.
Bryant Holsenbeck is an environmental artist who makes large-scale installations and ssmall-scale sculptures that document the waste stream of our society. She has shown her work and taught throughout the United States and Australia. Her recent book, "The Last Straw" about her continuing quest to live without single-use plastic is the subject of a short documentary on WUNC-TV.
Whether she is making elegant sparrows, herons and bats, sculpted of wire and found paper, or colorful fuzzy rabbits and chickens out of fabric scraps, her work has a vibrancy and life which belies the castoff nature of the materials. "I make the animals I see around me. They inspire me and give me hope. They are beautiful. They are survivors of our own human neglect and greed. I feel such gratitude for them." This is her second show at Craven Allen Gallery.
JUDY KEENE
NUMINOUS LIGHT
through May 4
JUDY KEENE
While the influence of expressionist and color field painters is readily apparent in Judy Keene's paintings, with their luscious surface textures and enigmatic compositions, less obvious may be her study of the palettes and paints of Renaissance artists.  Keene's professional background in the museum world has given her an appreciation for the subtle color harmonies of old master paintings;  she even crafts some of her own pigments from raw materials.  Keene's paintings  range in scale from intimate small works to expansive large scale canvases.
---
---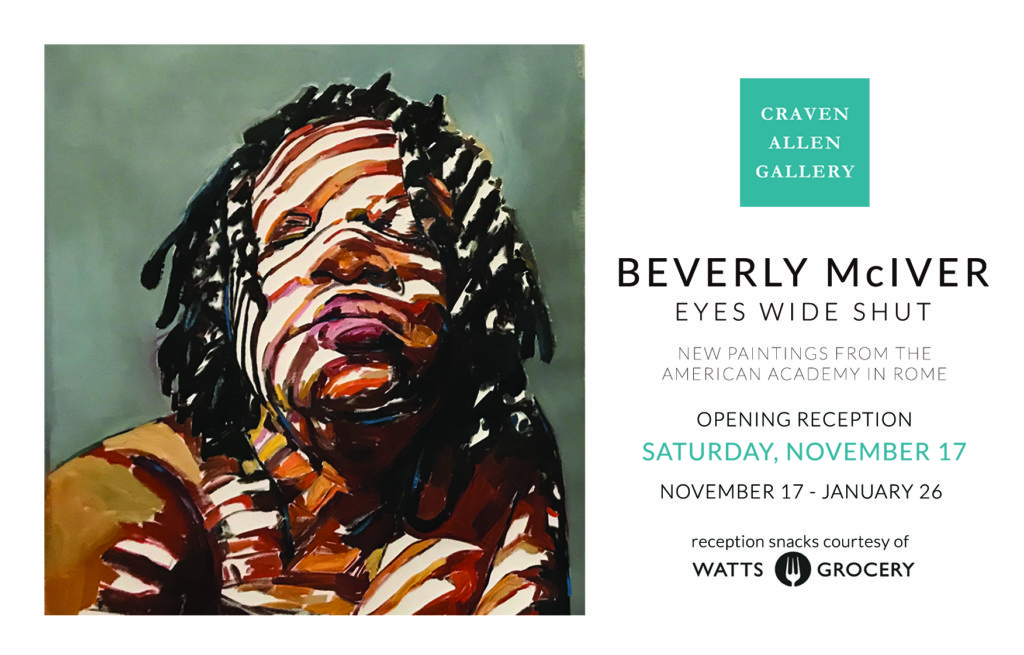 BEVERLY McIVER
EYES WIDE SHUT
New Paintings from the American Academy in Rome
Opening November 17th, 5 to 7 pm
NOW SHOWING THROUGH FEBRUARY 23rd!
Durham —BEVERLY McIVER: EYES WIDE SHUT, New Paintings from the American Academy in Rome, opens at Craven Allen Gallery on Saturday, November 17, with a reception from 5 to 7 pm.
As a winner of the Rome Prize, nationally known painter Beverly McIver was able to leave her hectic schedule of teaching at Duke University and the burden of caregiving for her family to spend a year painting, a true luxury for the artist.  "Italy–outwardly spectacular, with its mysterious quality of light–gave me the gift of being able to hear my inner voice loud and clear."
The artist noticed a peculiarity in the works she created during this intensely creative time. "In most of the portraits I created, my subject's eyes are either closed or covered by sunglasses.  But I realized the closed eyes were not a refusal to see, but a turning inward, an experience of centeredness.  I felt like my time at the academy was introspective and sometimes, as a person of color, in the historic heart of Western Civilization, I felt invisible.   But this was also freeing.  I couldn't remember the last time it was this quiet in my head."
Since returning from Rome, McIver has been "… fascinated with those who courageously share their authentic selves with the world. I continue to create portraits of white males in blackface, black women in body paint, and men who dress in drag. I remain intrigued by mask, dress-up, and how we as humans choose to define ourselves… I hope these new paintings inspire others who may need permission to be their authentic self. "
McIver recently received the Anyone Can Fly Foundation Lifetime Achievement Award in a ceremony hosted by Faith Ringgold.  While in Rome, she appeared in a short documentary on Italian television, Beverly McIver e il colore nero.  Her work is in major museums and collections across the country. She is the Ebenshade Professor of the Practice of Visual Arts at Duke Univesity.
BEVERLY McIVER
EYES WIDE SHUT
New Paintings from the American Academy in Rome
Statement
It is natural to be afraid of where your journey will take you, and who you might encounter along the way. The challenge is to remain open, both spiritually and mentally, as you follow your path–to be fully present.
A yearlong fellowship at the American Academy in Rome gave me the chance to rediscover myself as an artist.  For the first time since inheriting the responsibility of caring for my mentally disabled sister Renee, I was free of the burden.  Who was I when I wasn't a caregiver to Renee and my 92-year-old dad, or a teacher of students, or an artist living under the weight of the history of the American South?  Who was I when I was only responsible for myself?
I felt many emotions simultaneously and was keenly aware of the intensity of being alive. I was learning, as if for the first time, what I liked and disliked.  Mostly, I was able to paint.  I painted daily at the academy, a creative outpouring of work inconceivable in my life at home.
I was able to silence all the voices in my head that tell me what to do or what might sell. I allowed my intuition to guide my choices of who and what to paint. In most of the portraits I created, my subject's eyes are either closed or covered by sunglasses.  But I realized the closed eyes were not a refusal to see, but a turning inward, an experience of centeredness.  I felt like my time at the academy was introspective and sometimes, as a person of color, in the historic heart of Western Civilization, I felt invisible.   But this was also freeing.  I couldn't remember the last time it was this quiet in my head.
My quest for identifying my true self was heightened by an important portrait commission. I had spent most of my formative years wanting to be white clown, with blonde hair; I often paint myself in white or blackface and in costume.  One white client courageously asked for a portrait in blackface and red stiletto heels, an expression of his inner life.  Working on the painting affected me profoundly. Although our reasons differed, I realized we are both humans in search of our truth.
Since I returned from Rome, I've been fascinated with those who courageously share their authentic selves with the world. I continue to create portraits of white males in blackface, black women in body paint, and men who dress in drag. I remain intrigued by masks, dress-up, and how we as humans choose to define ourselves.
Italy–outwardly spectacular, with its mysterious quality of light–gave me the gift of being able to hear my inner voice loud and clear. I discovered a sense of peace with who I am at this moment.  I hope these new paintings inspire others who may need permission to be their authentic self.
ABOUT BEVERLY MCIVER
Beverly McIver is widely acknowledged as a significant presence in contemporary American art and has charted a new direction as an African American woman artist. She is committed to producing art that consistently examines racial, gender, social and occupational identity.
McIver was born in Greensboro, North Carolina in 1962. She is the youngest of three girls born to Ethel McIver. Her oldest sister Renee is mentally disabled, with the mindset of a second grader. Beverly is Renee's legal guardian. Renee is a frequent subject of the artist, as are other family members.
"Raising Renee", a feature-length documentary film produced in association with HBO by Academy Award-nominated and award-winning filmmakers Steven Ascher and Jeanne Jordan, tells the story of the impact of McIver's promise to care for her sister when their mother dies. The film played in festivals around the country and was nominated for an Emmy Award for Outstanding Arts and Culture Programming.
McIver's work is in the collection of the National Portrait Gallery at the Smithsonian, the North Carolina Museum of Art, the Weatherspoon Art Museum, the Baltimore Museum of Art, the NCCU Museum of Art, the Asheville Museum of Art, The Crocker Art Museum, the Nelson Fine Arts Center Art Museum at Arizona State University, the Nasher Museum of Art at Duke University, the Cameron Art Museum and the Mint Museum as well as significant corporate and private collections.  McIver is currently the Ebenshade Professor of the Practice in Studio Arts At Duke University.  She was the Suntrust Endowed Chair Professor of Art at North Carolina Central University, 2007-2014. Prior to this appointment, McIver taught at Arizona State University in Tempe, AZ. for twelve years, Duke University, North Carolina State University and North Carolina Central University. She has also held residencies at many of the nation's leading artist communities, including YADDO, the Headland Center for the Arts, Djerassi, and Penland School of Arts and Crafts. She has served on the board at Penland, and currently serves on the board of directors at YADDO in Saratoga Springs, NY.
Recent honors include a yearlong residency at the American Academy in Rome, where she was featured in a Beverly McIver e il colore nero, a documentary for Italian television.  In 2017 she received the lifetime achievement award from the Anyone Can Fly Foundation in a ceremony hosted by Faith Ringgold.  McIver was named as one of the "Top Ten in Painting" in Art in America in 2011, and her work has been reviewed in Art News, The New York Times and a host of local newspapers.  She has received numerous grants and awards including the Anonymous Was A Woman Foundation grant, a John Simon Guggenheim Fellowship, a Radcliffe Fellowship from Harvard University, a Marie Walsh Sharpe Foundation award, a distinguished Alumni Award from Pennsylvania State University, a Louis Comfort Tiffany Foundation Award and Creative Capital grant. She had a solo exhibition at the North Carolina Museum of Art in 2011, and at the Mint Museum in 2012. During the fall of 2014, McIver was Artist-in-Residence at the McColl Center for Art + Innovation in Charlotte, N.C.
McIver received a master of fine arts degree in painting from Pennsylvania State University, and an honorary doctorate from North Carolina Central University.
---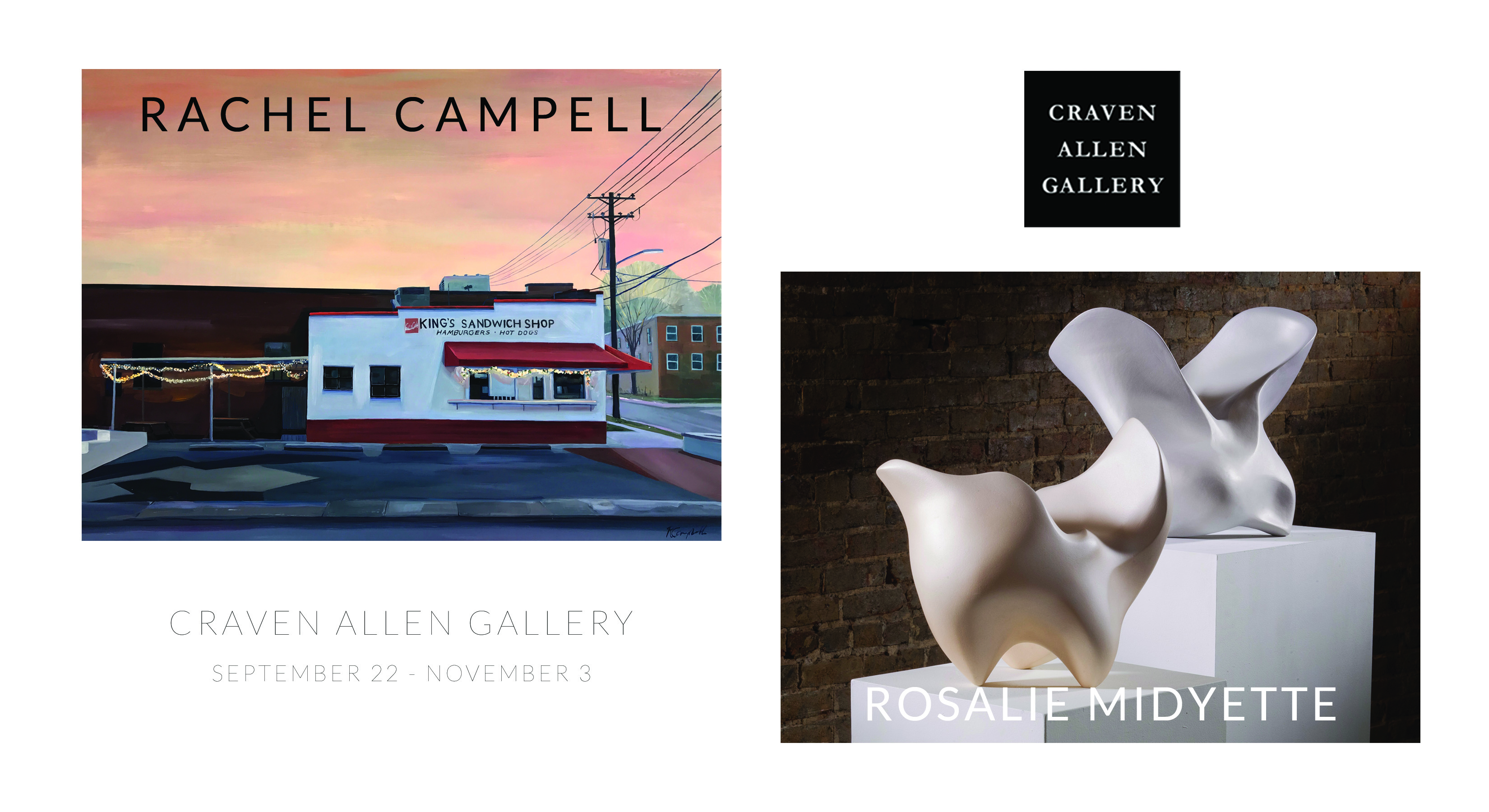 RACHEL CAMPBELL/PAINTINGS
ROSALIE MIDYETTE/SCULPTURE
Through November 3rd

SHOWING FOR THE MONTH OF OCTOBER FOR CLICK! PHOTOGRAPHY FESTIVAL
ANNE BERRY
APRIL IS THE CRUELEST MONTH
OPEN HOUSE WEDNESDAY, OCTOBER 17TH 5:30 – 8 pm
BROAD STREET DOUBLE HEADER WITH HORSE & BUGGY PRESS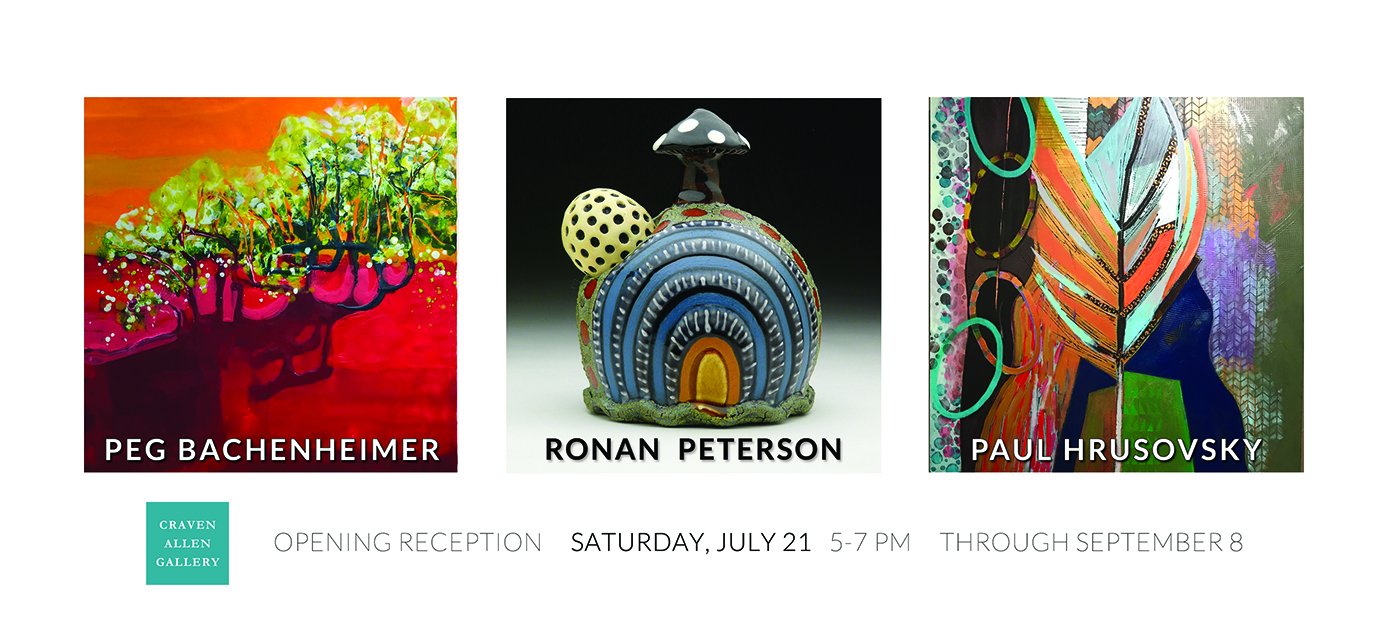 Paul Hrusovsky, Peg Bachenheimer, and Ronan Peterson combine elements of nature with pure abstraction for their new shows at Craven Allen Gallery.  The artists will be present at the opening reception, Saturday, July 21, from 5 to 7 pm.
For "Layered", Peg Bachenheimer creates landscapes and abstract paintings using the time-honored —and challenging—techniques of oil with cold wax, and encaustic hot wax.  "This ancient and durable medium has a mystery, luminosity and organic quality that give the final pieces a spiritual feeling.  My process involves discovery; not knowing all that will emerge is an act of faith."  Bachenheimer hales from a family steeped in the art and museum world; she brings a discerning eye to her work which has found a wide audience.
Longtime Craven Allen Gallery director Paul Hrusovsky returns home, exploring new territory with "Embellished", a vibrant collection of canvases based on organic shapes, rich with movement.  The luscious surface textures have a visceral, tactile quality, enhanced by stencils and silk-screens.   A Triangle gallery staple for over 30 years and outspoken arts advocate, Hrusovsky's work is in major public and private collections.
With his modern, edgy take on traditional North Carolina functional pottery, the work of Ronan Kyle Peterson stands out as singularly imaginative. For "Fecundity", Peterson combines nature imagery with bold shapes and striking colors, seeking " … to create a comic book interpretation of the natural world with a focus on rocks and trees and their role in the perpetual organic comedy of growth and decay."   A native of Poplar, NC, Peterson's work is popular with collectors interested in the future of our state's most iconic medium.
Through September 8.
---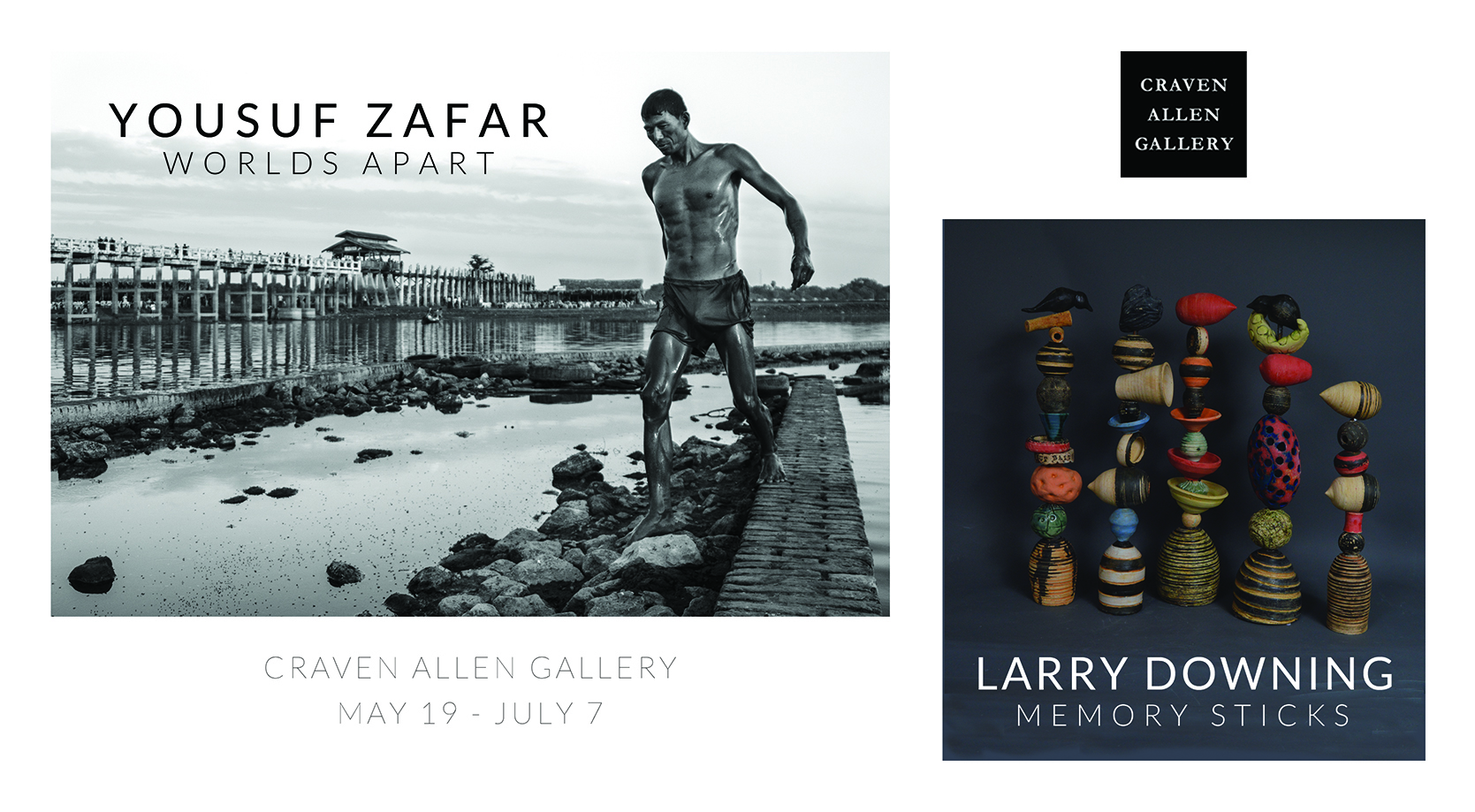 YOUSEF ZAFAR:  WORLDS APART
LARRY DOWNING:  MEMORY STICKS
through July 7
Award-winning photographer Yousuf Zafar makes his solo debut at Craven Allen Gallery with a compelling body of work featuring two forgotten corners of the globe—Amboy, a community bypassed by a new interstate route in Southern California, and Myanmar, a country unknown to many Americans, on the cusp of major changes.  Zafar captures these disparate worlds with a clear-eyed integrity and stunning beauty.
Gallery favorite Larry Downing returns with Memory Sticks, stacks of sculptures which he arranges "like a poet plugs in words . . . they are as random as my thoughts and as composed as a prayer. They are playfully deliberate, borrowing from generations of clay technique, but striving for something new to say." Complementing the sculptures are a new selection of whimsical, functional pottery.
YOUSUF ZAFAR
STATEMENT
WORLDS APART
Once forgotten amongst the bustle of Southeast Asia, Myanmar is making its presence known on the global stage, for better or for worse. Its economy is growing on the
foundation of oil and natural gas exports. Tourism is flourishing in this once closed military state. This growth is reflected in the day-to-day lives of the Burmese, as the
heavy hand of government lifts ever so slowly. Vibrant colors pervade their work and their worship. Yet, behind the warm and welcoming Burmese culture lurks a painful
story of oppression of the Rohingya Muslim minority. This series focuses on the peaceful, daily lives of the Burmese that stands in stark contrast to the unspeakable
violence in the west of the country.
The second half of this exhibit is comprised of photographs from Southern California. One of the largest economies in the world, California is often characterized by LA's glitz
or the Bay Area's innovation. But in a forgotten corner of the state, off Route 66, between Death Valley and Joshua Tree National Park, lies the remnants of early- and
mid-century economic growth. In the 1930's the federal government sold inexpensive parcels of land to encourage home ownership. Chasing the American dream, thousands
purchased land and built small homes. When Route 66 opened around the same time, the town of Amboy was built as a stop along the way with a gas station, motel, school,
and church. The town grew until the 1970's, when I-40 opened, bypassing Amboy altogether. The remaining residents were left with a struggling economy, limited infrastructure, and the punishing desert climate.
Worlds apart, a forgotten country surges, while one of the world's wealthiest economies
hides forgotten corners of decay.
ABOUT YOUSUF ZAFAR
Yousuf Zafar is a published, award-winning photographer who has shown his work nationally in joint and solo exhibitions. He was born in Pakistan, grew up in Saudi Arabia and Centerville, Ohio; and spent time in Sub-Saharan Africa. Today he lives in Durham, North Carolina. Yousuf's photography—influenced by his world view—focuses primarily on life in low- and middle-income countries in Africa, the Middle East, South Asia, Southeast Asia, Central America, and South America. His favorite subject matter is, quite simply, people. He is in his element spending a few hours crouching in one spot, intent on one person, as a market crowd bustles around him, as the light changes above him. Some of his work can be viewed at yousufzafar.com. Follow him on Instagram @fotoamazonas.
LARRY DOWNING
STATEMENT
MEMORY STICKS
Several sources describe an "Ebenezer" as a monumental stone chosen and set up to signify the great help God granted. After crossing the Red Sea, Moses set up stones to remind the Jews escaping slavery, of what God had done for them. I think of my stacks as notes to myself, and to those viewing them, as reminders of help. I handle and shape each form with purpose. I stack and re-stack them like a poet plugs in words, changes and reorders them. These are my musings about God's protection and help. They are both as random as my thoughts and as composed as a prayer. They are playfully deliberate, borrowing from generations of clay technique, but striving for something new to say.
ABOUT LARRY DOWNING
Born in Fayetteville, North Carolina, Downing graduated from UNC Chapel Hill with a BFA in sculpture with extensive coursework in English and Psychology. He has taught Art for thirty years in Durham, the last 23 years at Durham School of the Arts and the Durham Arts Council.
"Working with high school students has stretched me, expanding my view of the world. My work with adults helps balance the scale. I have enjoyed working with serious young artists and mature artists who want to make art materials speak their truth."
His exposure to clay as an art form goes back to making clay apples with stick stems in a neighbor's stream as a child. "Clay has always fascinated and challenged me. It is such a basic material. Clay is both free and temperamental, formless, yet loaded with potential. It holds the stories of our ancestors but is fragile and easily destroyed. The scrap piles and shards speak through the generations. I find clay a great teaching material, full of life lessons, self-correcting in its limitations and possibilities."
Downing's work has been seen in the Triangle at Somerhill Gallery for 20 years, Raleigh Contemporary Gallery, now, the Mahler Gallery for more than 25 years. Special invitations have included the National Teapot Shows at Cedar Creek Gallery and Greenhill Center for North Carolina Art. In addition to solo shows with the Durham Arts Council, He has participated in several faculty shows with both Durham Arts Council and Durham School of the Arts.
---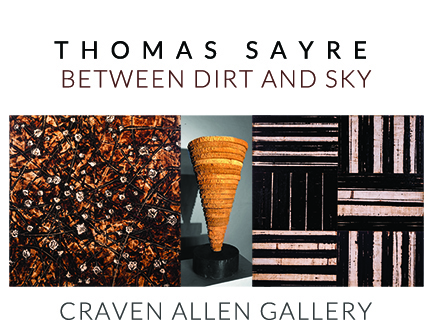 THOMAS SAYRE
BETWEEN DIRT AND SKY
through April 21
GALLERY TALK: SO WHAT IS BETWEEN EARTH AND SKY?
Tuesday, March 27
Reception with refreshments 5:30
Talk begins at 6:15
Join the artist for as he reveals the connection between his large earthcast sculptures cast directly in the earth and the two-dimensional work currently showing at Craven Allen Gallery. 
Thomas Sayre's art is firmly rooted in landscape.  The paintings in Between Dirt and Sky are inspired the farms and barns of the rural south.  Like Sayre's iconic large-scale earthcast sculptures–found in public and private spaces all of the world—Sayre's process is intensely physical, utilizing unusual materials, including roofing tar and dirt. The images hover between abstraction and realism, with a texture and depth that give them a visceral intensity.
Between Dirt and Sky is a more intimate version of the touring installation White Gold, which premiered at CAM in Raleigh, and is currently at the Mississippi Museum of Art in Jackson.  Sayre first introduced cotton-inspired paintings as part of Craven Allen's show Medici Schmedici, which highlighted the value of collectors in the careers of artists.
Triangle residents will be familiar with the series of large earthcast rings, Gyre, which have become one of the most beloved works at the North Carolina Museum of Art. In addition to the paintings, several earthcast sculptures will also be on display at the gallery.
Craven Allen Gallery is located at 1106 ½ Broad Street in Durham. Gallery hours are from 10 a.m. to 6 p.m. Monday through Friday, and 10 a.m. to 4 p.m. on Saturday. For more information, please call the gallery at 286-4837 or visit www.CravenAllenGallery.com.
ARTIST STATEMENT
Between Dirt and Sky is an exhibition of paintings about our quirky, haunted southern landscape. Related to the touring museum exhibition entitled: White Gold (which began at CAM Raleigh), these smaller, more intimate works refer to dense agricultural fields (cotton in particular) and the barns which act as protecting sentinels, overseeing the furrows. Each of these pieces were made from somewhere between hand and mind, chance and control, beauty and tragedy . . . somewhere between dirt and sky.
ABOUT THOMAS SAYRE
Artist Thomas Sayre grew up in Washington, D. C. in the shadow of the Washington Cathedral.  He attended the University of North Carolina at Chapel Hill on a Morehead Scholarship and majored in English and studio art.  After graduating summa cum laude. He then moved to Ann Arbor, Michigan, where he was a Michigan Fellow with a three year grant from the Ford Foundation to make sculpture at the University of Michigan.  In 1975, Mr. Sayre attended the Master of Fine Arts Program at the Cranbrook Academy of Art.
Mr. Sayre works actively as a sculptor with commissioned public work in various collections across the United States with projects in Fort Lauderdale and Tampa, Florida; Denver, Colorado; Portland and Eugene, Oregon; Nashville and Chattanooga, Tennessee; San Jose and Sacramento, California; Phoenix and Tucson, Arizona, Baltimore, Maryland; and Washington D. C. Internationally, the public projects have included Istanbul, Turkey; Phuket, Thailand; Hong Kong, and Calgary and Ontario, Canada.
Thomas' recent awards include the 2012 North Carolina Award for Fine Arts and received an honorary doctorate from NC State University in the Spring of 2014.   A documentary about the life of Thomas Sayre,  Earthcaster,  was recently shown nationally on PBS.
Thomas' current work includes Oberlin Rising, a memorial in Raleigh, White Gold, a one person exhibition at the Mississippi Museum of Art, and a large new public commission in downtown Tampa, Florida.  A resident of Raleigh, Thomas is married to Joan-Ellen Deck, whom he met while touring as a professional musician in the rock and roll band, Dog Days. Together they have two daughters.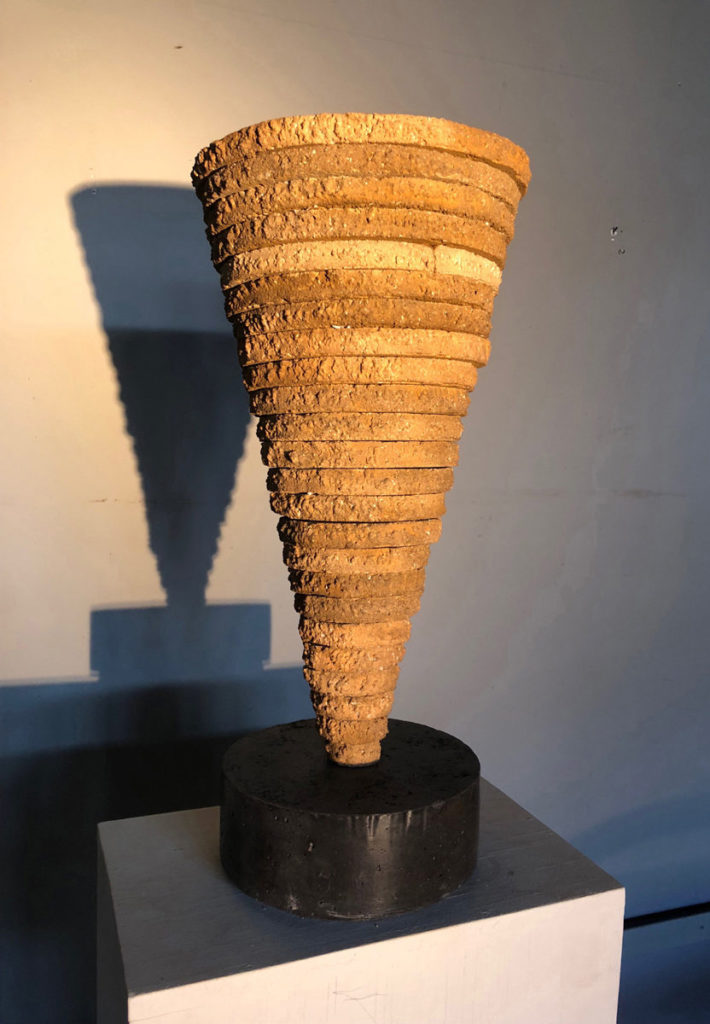 METHODS AND MATERIALS
Description of Thomas Sayre's process by Deidre S. Greben, CAM Raleigh
To create his huge mixed media panels, Sayre began where, over the past two decades, he has become most comfortable–with North Carolina's indigenous red clay soil. Here, he rubbed the dirt into the sanded, pre-laminated white Masonite boards, as if to reassert the work's connection to the place it describes. To form the sprawling tangle of cotton plant stalks, he then used sticks and nozzled bottles to fling and squirt streams of clear acrylic floor finish across the mud-stained wood surface, lining up several panels on the floor at a time so as to not interrupt his arcs of movement. To be sure, the spontaneously streaked, splashed, and dribbled markings invoke Jackson Pollock's gestural compositions. Like the New York School painter, Sayre turns our attention to the physical act of painting. But while Pollock's improvisational paint-flinging is non-representational, Sayre's draws on the physical action of portraying the cotton to evoke the labor that has been exploited in harvesting it.
Physical force is integral to his formation of the plants' downy clumps as well. After squirting puddles of bright white stain-blocker paint onto the wood panels, he then proceeded to repeatedly whack the blobs with flat sticks to create recesses in their gleaming surfaces. Using massive putty knives he fashioned from spring steel and aluminum, Sayre applied and then laboriously scraped off layers of black tar to imbue the blossoms and their willowy stalks with further definition. The successive veils of sepia-toned tar residue give Sayre's composition pictorial depth and a seductive yet discomfiting beauty.
---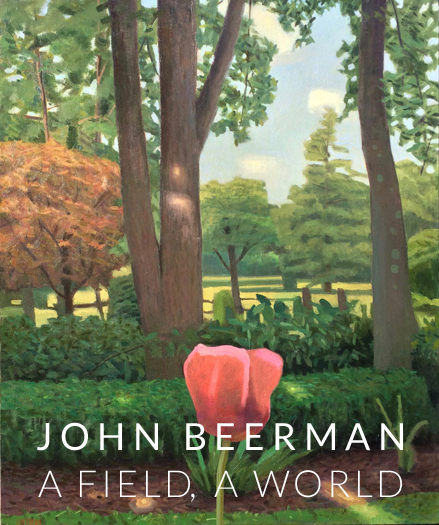 JOHN BEERMAN
A FIELD, A WORLD
John Beerman's iconic landscapes are found in major museums and collections across the country.  For this show, the North Carolina native has selected paintings with a deep personal resonance from across the state and as far afield as New Mexico and Italy.   The exhibition features both large canvases and intimate works on paper, many painted en plein air.
The title of the show, A Field, A World, comes from Beerman's determination to see beauty close at hand wherever he may be.  Many works feature the countryside around Chatwood in Hillsborough, home of Frances Mayes, author of Under the Tuscan Sun, where he has stayed recently.  Another series shows a church in Hillsborough at various times of day; like Monet and his haystacks, the differences in color and light in each canvas are revealing.
Craven Allen Gallery is located at 1106 ½ Broad Street in Durham. Gallery hours are from 10 a.m. to 6 p.m. Monday through Friday, and 10 a.m. to 4 p.m. on Saturday. For more information, please call the gallery at 286-4837 or visit www.CravenAllenGallery.com.
See more works from the show on the JOHN BEERMAN ARTIST PAGE
STATEMENT
I find my inspiration in landscapes and in the everyday objects of the world around us. To see freshly, to discover something luminous below the surface of the commonplace is my challenge. By laying down paint on canvas, I try to represent a moment in time with its subtle order and its specific nuances of color and light.
As a painter, I believe there is a life force in the materials I work with, whether its oils, egg tempera or some combination of these. For me, the paint itself tells its own story and my most successful paintings represent something apart from their subject matter. I hope my paintings invite you to see the visible world with new eyes, and to experience the everyday as something luminous.
 ABOUT JOHN BEERMAN
John Beerman is a painter whose work has been exhibited nationally and internationally. He attended the Skowhegan School of Painting and Sculpture and earned a BFA from the Rhode Island School of Design. Beerman has received numerous awards and fellowships including the Pollack-Krasner Foundation Award and the Yaddo Artist Colony Fellowship. His work is represented in many museums including The Metropolitan Museum of Art, New York; the Museum of Fine Arts, Houston; and the Whitney Museum of American Art, New York. He has completed several public commissions including a mural in the Craftsteak restaurant at the MGM Grand, Las Vegas and recently an eighty-five foot mural in the I.M. Pei designed Milstein Family Heart Center, New York Presbyterian Hospital in New York City.
John Beerman lives in Durham, North Carolina, and is represented by Tibor de Nagy Gallery in New York City.
---
PAST EXHIBITIONS

ALEX HARRIS
NEAR AND FAR
presented by Craven Allen Gallery and Ann Stewart Fine Art
September 30 – November 4
STATEMENT
My childhood home in Georgia, though privileged and suburban, was oddly ephemeral. My family had gone through several divorces and all the neighborhood families I knew either split up or moved away. I think now that is why I was so drawn to live and photograph in the oldest and most traditional settlements in North America: the remote Inuit villages of Alaska, and the isolated Hispanic communities of northern New Mexico.  As a photographer, I was eager to come as close as I could to the lives of the people in my pictures.
By the time I arrived in Cuba, I was no longer the same person who looked through the lens of my camera in search of family and community. I had my own family. And I was finally interested in photography itself, in what my pictures could tell me that I wasn't already searching for or didn't already know. I was also aware one crucial thing from my earlier work as a photographer that served me well in Cuba and guides me in my work today: how to immerse myself in a world and at the same time observe it, how to step back from the moment I am experiencing and take a picture – how to be at once near and far.
---
ABOUT ALEX HARRIS
For over forty years, Alex Harris has photographed across the American South, and in locations as disparate as the Inuit villages of Alaska, the streets of Havana, the fish markets of Mumbai, and the Hispanic settlements of northern New Mexico. Now Harris has selected photographs – some well-known and others that haven't been widely seen – that are especially meaningful to him from across his body of work. In this exhibit, Harris also explores the various ways he's approached and thought about the idea of distance as a photographer.
Alex Harris is a founder of the Center for Documentary Studies and of DoubleTake Magazine. His awards include a Guggenheim Fellowship in Photography, a Rockefeller Foundation Humanities Fellowship, and a Lyndhurst Prize. Harris' work is represented in major photographic collections, including The Museum of Modern Art in New York, The San Francisco Museum of Modern Art, and the North Carolina Museum of Art. His photographs have been exhibited widely, including exhibitions at the International Center of Photography in New York and the J. Paul Getty Museum in Los Angeles.
On commission from the High Museum in Atlanta, Harris is currently photographing on independent movie sets across the South.
As a photographer and editor, Harris has published sixteen books, most recently in September of 2017, Dream of a House: The Passions and Preoccupations of Reynolds Price, which he and co-editor Margaret Sartor will be signing in the gallery. Alex Harris is represented by Ann Stewart Fine Art.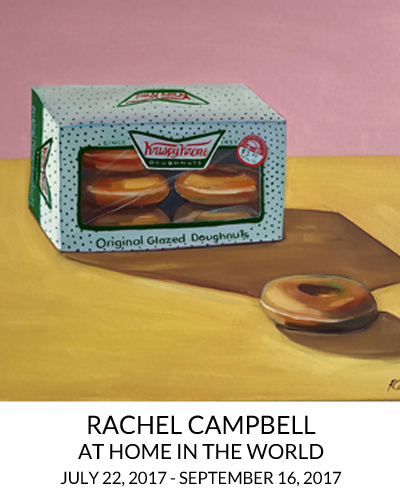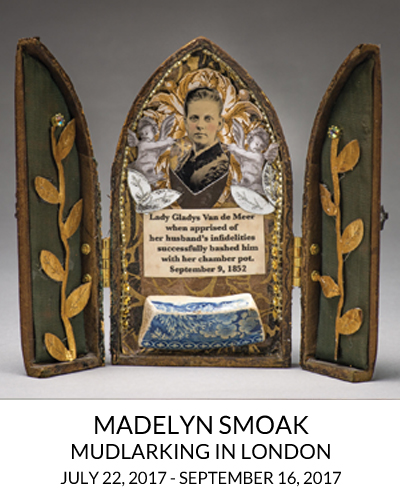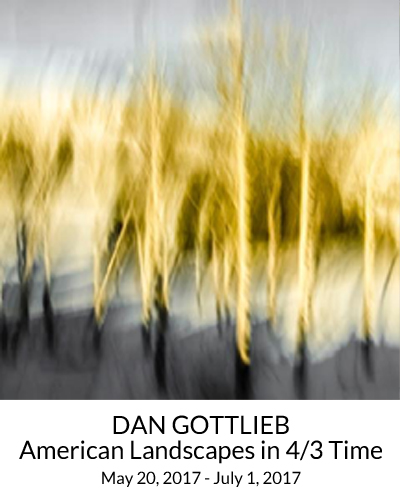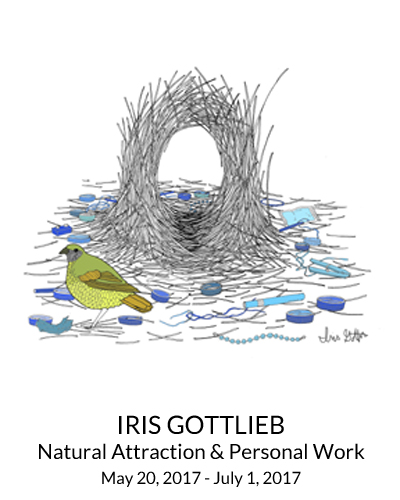 ---