ON VIEW NOW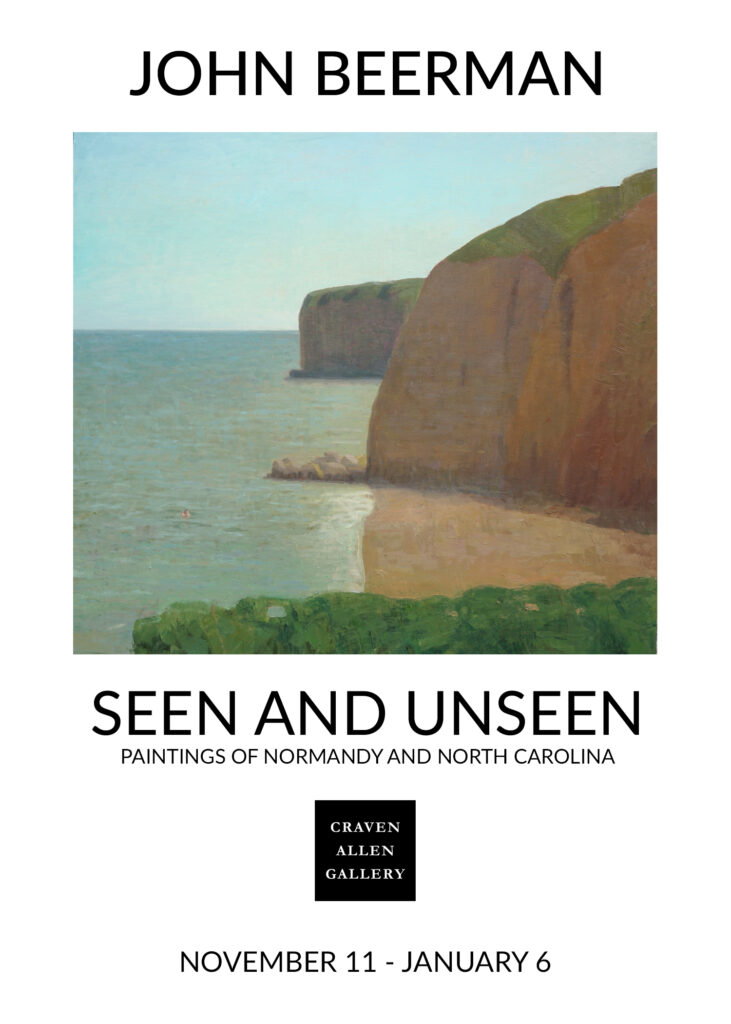 PAST EXHIBITIONS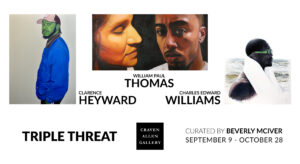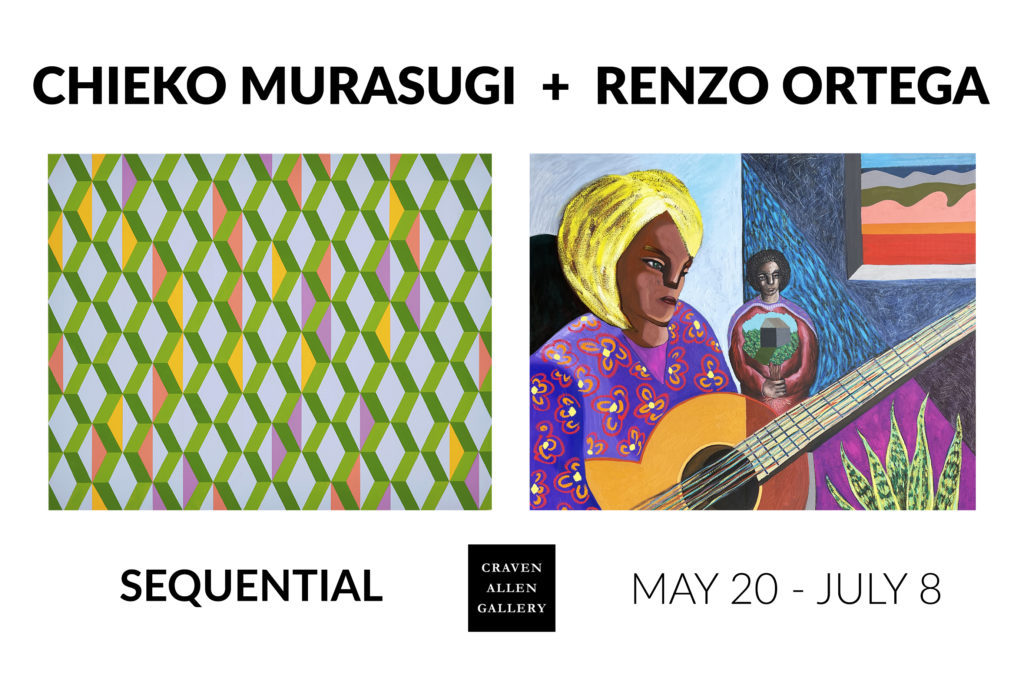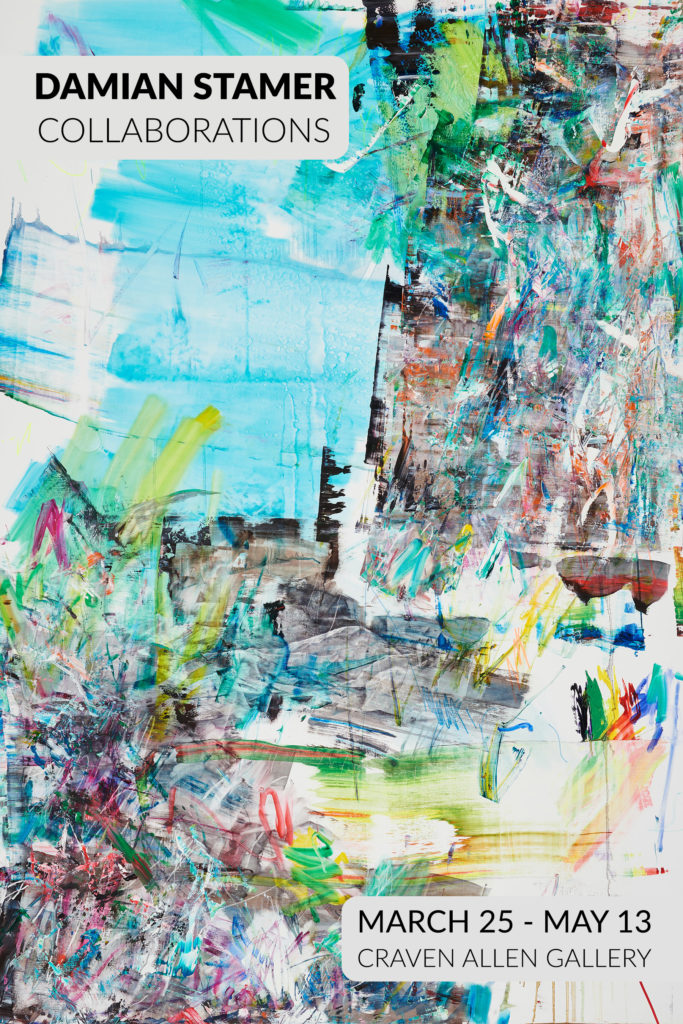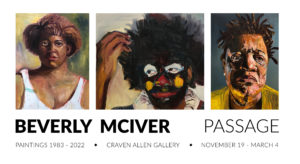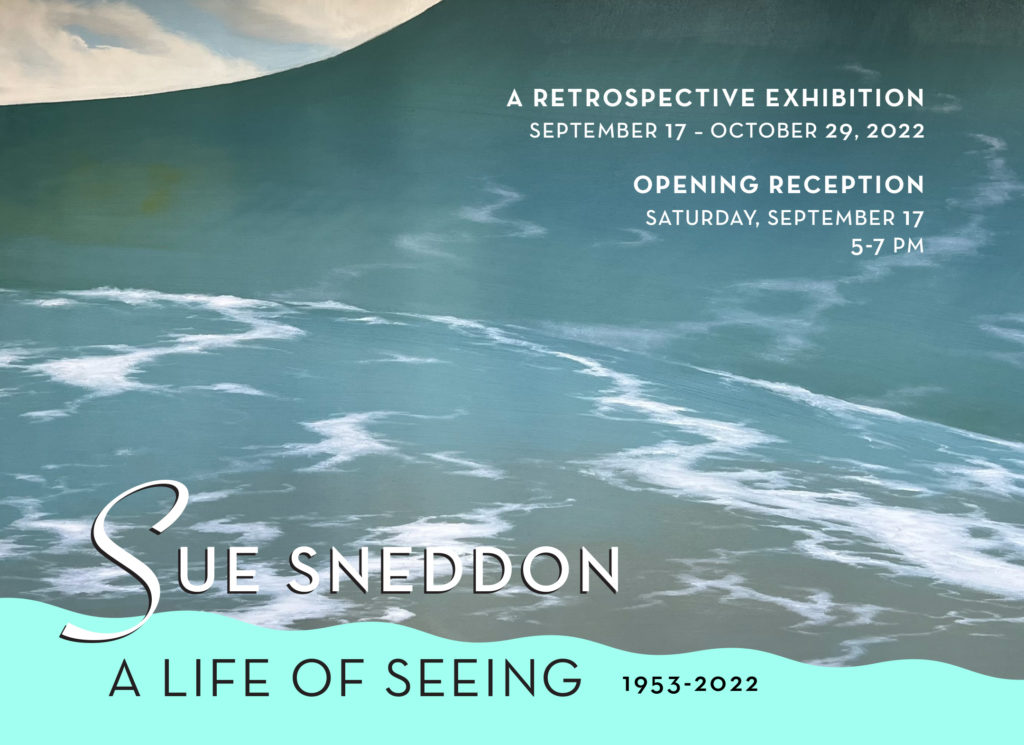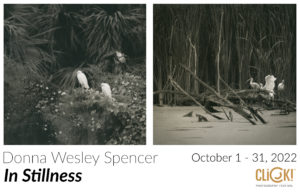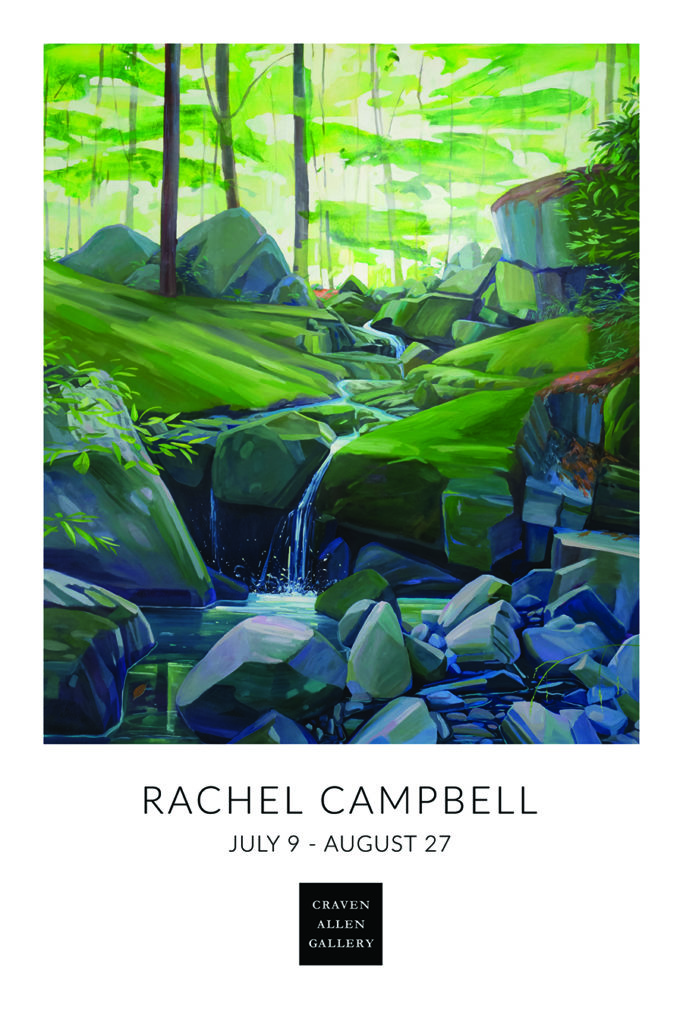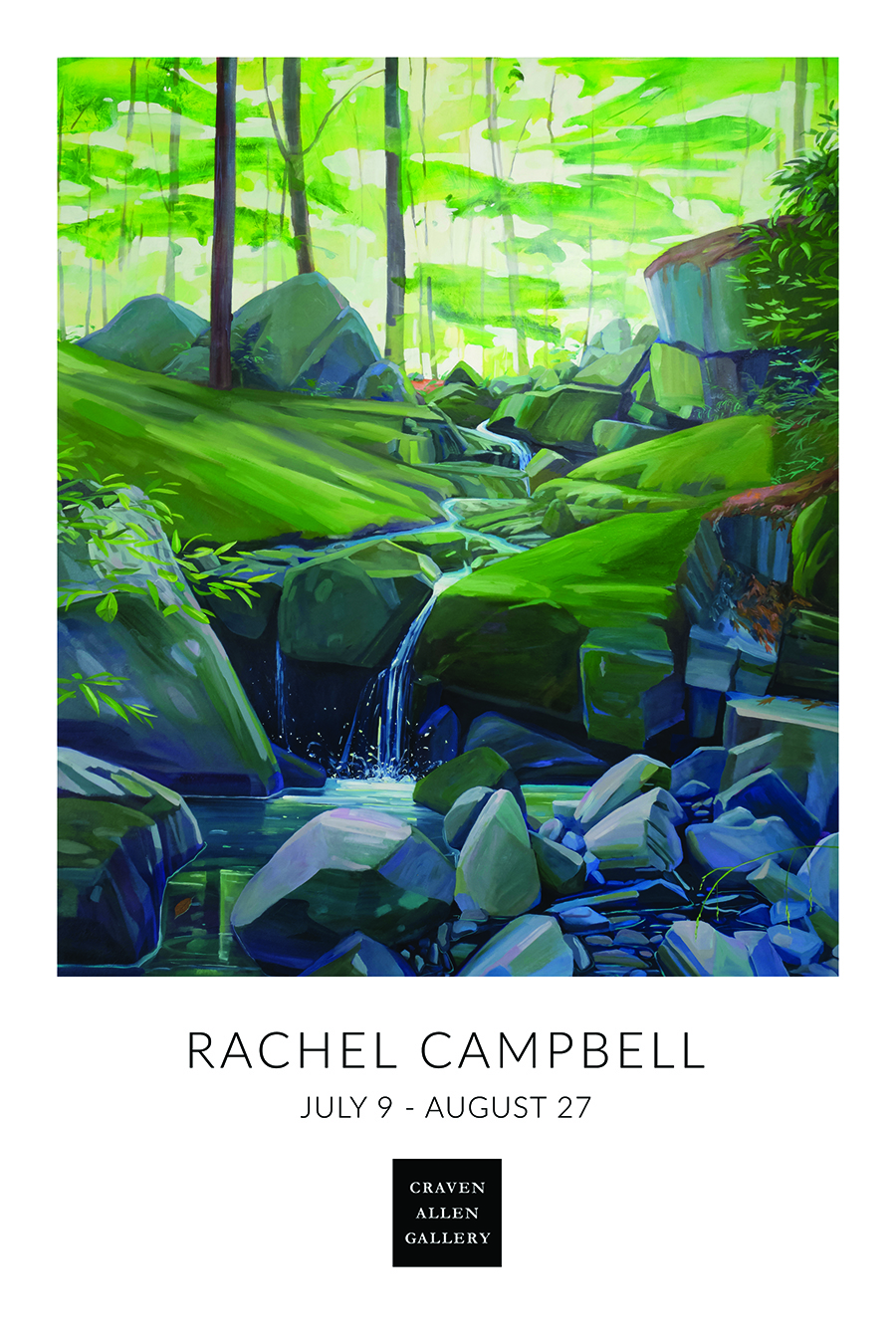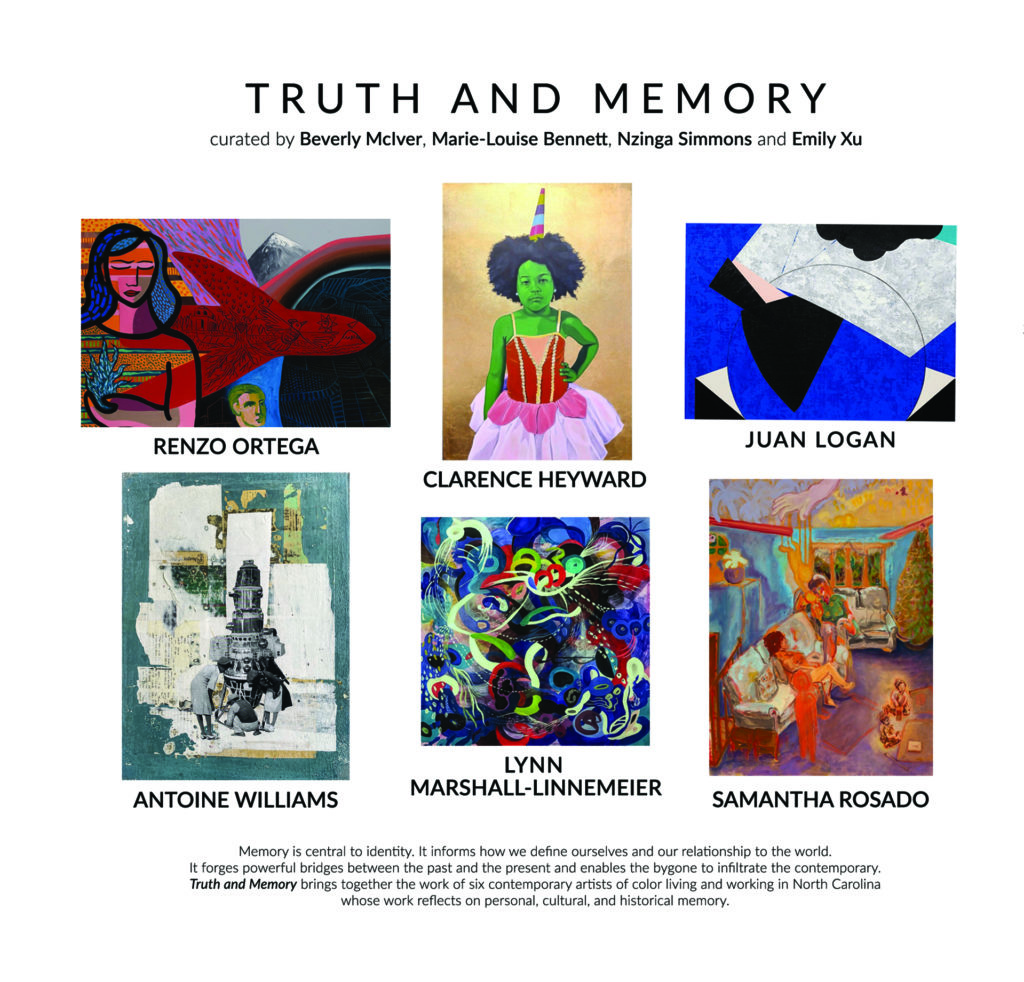 Craven Allen Gallery
April 30, 2022 – June 25, 2022
Truth and Memory was conceived by artist Beverly McIver, and curated by McIver and three of her students at Duke University, Marie-Louise Bennett, Nzinga Simmons and Emily Xu, where she is professor of art.  As they write in their collective statement as curators, "Memory is central to identity formation. It forms how we define ourselves and our relationship to the world. It forges powerful bridges between the past and the present, enabling the bygone to infiltrate the contemporary." Personal memory refers to an understanding of the past that has been experienced first-hand. Cultural memory refers to an understanding of the past that has been passed down generationally though oral traditions and other culturally specific customs. Historical memory refers to an understanding of the past informed by narratives about specific historical periods and events. Working both abstractly and figuratively, the artists presented in this exhibition create works that query and reflect on both personal and collective memories –– grappling with the ways in which the past continues to inform the present."
The show features a catalog, available at the gallery.
Artist Statements:
Antoine Williams – "My interdisciplinary practice is an investigation of power, perception, and fear as they relate to institutional inequality. I have created a mythology about the complexities of contemporary Black life. My artwork is influenced by social science fiction and sci-fi literature from such authors as Octavia Butler and H.P. Lovecraft. Themes in science fiction, such as relationships to what may be considered a foreign or alien body, can be analogous to the many Black experiences in America." (https://antoinewilliamsart.com/home.html)
Clarence Heyward – "My art practice challenges stereotypes and myths, takes on social commentary, critiques perceptions, and creates dialogues all through the lens of the Black American male experience. As a Black man, husband, and father living in America, my paintings draw from life experiences. It contains personal and collective narratives that position black bodies in the forefront and examines the reinterpretation of black existence in imagery addressing the notion of belonging, inclusion, our perceived presence and absence in America." (https://www.clarenceheyward.com)
Juan Logan – "Mixed-media painter, sculptor, and installation artist Juan Logan draws from contemporary culture and the Civil Rights Movement to create pieces that reflect on racial and institutional power structures. The imagery in Logan's material landscapes walks the line between abstraction and representation. His pieces are often tied to sites of commemoration, and Logan asks viewers to consider their social responsibility in the wake of tragedy and oppression." (http://www.juanlogan.com)
Lynn Marshall-Linnemeier – "I am an artist and maker of things whose work, deeply rooted in the southern United States and utilizes primary source documents and photographs to examine family histories.  I work both figuratively and abstractly and am inspired by the spiritual traditions of Western Africa, stories from people that I meet during my travels, and personal and public archives. My work often provides an avenue to explore sensitive political issues that include the environment, race, gender, beliefs, tradition and culture through the universal concept of ancestry and memory." (https://lynnlinn.net)
Renzo Ortega – "My immigrant experience as a Peruvian artist in The United States of America has showed me that a border is a concept that exists because of its ability to be crossed. Different groups of people have inhabited the continent for centuries. My visual language seeks to use the figurative tradition in order to build bridges for people to cross, while at the same time opening spaces for viewers to make their own interpretations. It is an invitation to be part of a history; I believe exchange is the key not only to preserving cultures but also to evolving traditions to fit contemporary experience. I think it is important to re-value the art made in our communities. Art and traditions of many nations exist in the diverse cities of The United States of America. This phenomenon generates cultural exchange between our population, and this is necessary for the Country's development and identity. For this reason as an artist, I have the responsibility to connect with my community. Art sets out cultural models in a continuous renovation. Our identity is the fusion, our art expressions are not a characteristic of the immigrant nostalgia. We are a living culture, and my art commitment is about that." (https://renzoortega.com)
Samantha Rosado – "In my paintings I tell stories of identity, heritage, and family. My work has been described as pages from a journal, giving honest descriptions of family dynamics surrounding the intersections of sexuality and religion, children and parents, siblings and in-laws, and the culture of Puerto Ricans living on the mainland and on the island. In these family portraits each component carries personal meaning for me, which I attempt to convey with a sense of humor through placement and characterization." (https://sa5mantharosado.voog.com)
Artist Biographies:
Clarence Heyward – Clarence Heyward (American, b.1983) was born and raised in Brooklyn, NY. He is a painter and collagist whose work explores notions of the Black American experience. His work investigates cultural truths, challenges stereotypes, and questions identity. Clarence believes it's important to "paint his truth" and uses persons of color as subjects in his work as homage to his culture. Beginning his journey as a full-time artist in 2019, he is best known for his dynamic and fresh take on figurative art. Heyward relocated to North Carolina to study Art Education at North Carolina Central University.He has shown his work nationally and has been featured in venues including the 21c Museum of Durham, the Harvey B. Gantt Center for Cultural Arts, the Block Gallery Raleigh, the Nasher Museum of Art and the Contemporary Art Museum of Raleigh. Heyward was the recipient of The Brightwork Fellowship residency at Anchorlight, Raleigh in 2020, the Emerging Artist in Residence at Artspace, Raleigh in 2021 and was the NC State Artist in Residence 2022. His work is in the collections of several notable private and public institutions. He currently lives and works in Raleigh, NC.
Juan Logan – Born in Nashville, Tennessee, Juan Logan now lives and works in Belmont, North Carolina. Logan's artworks address subjects relevant to the American experience. At once abstract and representational, his paintings, drawings, sculptures, installations, and videos address the interconnections of race, place, and power. They make visible how hierarchical relations and social stereotypes shape individuals, institutions, and the material and mental landscapes of contemporary life. Juan Logan is currently the Conservation Manager at the Vollis Simpson Whirligig Project. This project is actively restoring thirty-one large-scale sculptures created by artist Vollis Simpson for the city of Wilson, NC.
Lynn Marshall-Linnemeier – Lynn Marshall-Linnemeier has been documenting the American South since 1989 and works both figuratively and abstractly. She researches and collages photography, painting, and writing, with primary source documents from diaries and letters, which she incorporates into her image-based mixed-media quilts, 2-D and 3-D sculptures, and mixed media works. With an aim of re-examining and re-framing historical figures, she engages her subjects through dialogue focusing on their life stories and historical incidences attached to place. She is inspired by African-American and indigenous cultural traditions as well as stories from people that she has met during her travels, which include international residencies.  Her vibrant paintings explore personal investigations into movement and transformation often drawn from concepts surrounding ancestry, memory and written language.
Renzo Ortega – Renzo Ortega (Lima, Peru 1974) is an artist based in Carrboro, North Carolina. Renzo received a BFA in painting from the Escuela Nacional de Bellas Artes del Peru (1999), studied at the Art Students League of New York (2000-04), and has his MFA in painting from HunterCollege (2014). His artwork has been exhibited in solo and group shows in the United States and Perú and has been commissioned to create public art projects and community murals. His recent solo exhibitions have been at LUMP Gallery in Raleigh, North Carolina (2021), Espacio Venancio Shinki ICPNA in Lima-Perú (February 2020), Vox Populi Gallery in Philadelphia (March 2019), The Power Plant Gallery at Duke University (February 2019), and at The John and June Allcott Gallery at UNC Chapel Hill (January 2018). Renzo's artwork has been exhibited in museums such as the NASHER Museum of Art (Durham, North Carolina, 2022),Southeastern Center for Contemporary Art SECCA (Winston-Salem, North Carolina 2020), the Works on Paper: 2017 Exhibition at The Weatherspoon Art Museum in Greensboro, in the S-Files Biennial at El Museo del Barrio (New York 2007) and Queens International Biennial at the Queens Museum in 2006. He is a recipient of the 2018-2019 North Carolina Arts Council Artist Fellowship Award, 2018-2019 Ella Fountain Pratt Emerging Artists Grant Durham Arts Council, 2018 Orange County Arts Commission Artist Project Grant, and 2016 Queens Council on the Arts New Work Award. In 2013, as a Kossak Travel Grant recipient, Renzo traveled to Berlin tostudy German Expressionism, and also in 2015 traveled to Honduras as a part of the U.S. Department of Cultural Affairs Cultural Envoy Program. He partook in the Visiting Artist Residency at the Rubenstein Arts Center at Duke University in 2019, and In 2020, he was the inaugural artist of the New Wave Art Wknd artist-in-residence program in West Palm Beach.
Samantha Rosado – Samantha Rosado is a Puerto Rican, cisgendered, gay woman who works primarily with oil painton canvas. Though she was drawn to the arts in her youth, she began oil painting after graduating from Mount Holyoke College in 2015. In Summer 2016, she attendeda Puerto Rican tiple (guitar) making workshop where she met Pablo Delano, former Director of Fine Art at Trinity College. After observing her work/process, she was offered a Hilla Rebay Post-Baccalaureate Fellowship in Fine Art and Studio Art. At Trinity College, Samantha found interest in the challenge of color, space development, and compositional relationships. She carried this interest through her assistantship at Arrowmont School of Arts and Crafts (2017), and her MFA at Louisiana State University (2018-2021). Her work is featured in New American Paintings, South Edition No. 148. Samantha currently holds a studio in Charlotte, NC at the McColl Center for Art & Innovation. She teaches Painting at Central Piedmont Community College and community workshops at theMcColl Center. Samantha is a painter, poet, and storyteller. Her work is about identity, family culture, and relationships. She uses humor to create captivating imagery and rhythm to guidethe viewer through a story of directional line and color. Painted figures lock eyes with onlooking viewers, pulling them into these staged dreamscapes. The audience gains understanding while reconsidering their circumstances.
Antoine Williams – Antoine Williams is an interdisciplinary artist who is heavily influenced by speculative fiction,history and his working-class upbringing in Red Springs, North Carolina. An artist-educator, Antoine received his BFA from the University of North Carolina, Charlotte, and his MFA from UNC Chapel Hill. He helped start the God City Art Collective in Charlotte, where he participated in a number of socially engaged, community-based art projects. He has exhibited in a number of places, including at the Mint Museum of Art, Michigan State University, Columbia Museum of Art, Smack Mellon Brooklyn, 21c Museum, Elsewhere Museum, Prizm Art Fair, The McColl Center of Art and Innovation, the California Museum of Photography as well as many other venues. He has taken part in residencies at The Center for Afrofuturist Studies, The Hambidge Center, and in 2022is slated to attend the Joan Mitchel Residency in New Orleans. Williams' was also a part of the 2021 Drawing Center viewing program, He is also a recipient of the 2017 Joan Mitchell Award for Painters and Sculptors and the 2018 Harpo Foundation Grant Award. His work is in the collection of the Mint Museum and the North Carolina Museum of Art. He's given talks at Auburn University and UNC-Chapel Hill. Williams is an associate professor of art at Guilford College.
PAST SHOWS
Season Five
Dan Gottlieb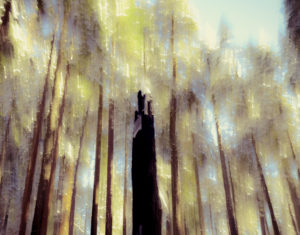 Dan Gottlieb, After the Fire, Before the Storm, Inkjet and acrylic on panel, 34 x 43
Beyond the Bend
Gerry O'Neill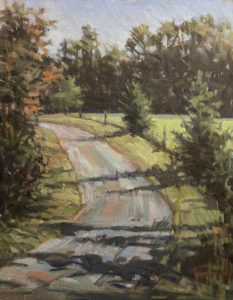 Gerry O'Neill, Beyond the Bend, Oil on canvas panel, 10 x 8
BEVERLY McIVER: PAINTINGS OF MY FATHER
REMEMBERING CARDREW DAVIS
February 1st – February 28th, 2022
A selection of paintings by Beverly McIver of her father, who recently passed away.
See the exhibition online here
Daddy Eating A Peach, oil on canvas by Beverly McIver, 30 x 30
JOHN BEERMAN
PATTERNS OF THE PASSING WALL/ NEW PAINTINGS
November 13th-January 29th
John Beerman's iconic landscapes are found in major museums and collections across the country; his Three Trees, Two Clouds is one of the signature paintings at the North Carolina Museum of Art. "I have always found the natural world a gateway to the greater mysteries and meanings of life," says Beerman of his work.
The title of the show, Patterns of the Passing Wall, is taken from a quote by Vladimir Nabokov: "In a sense we are all crashing to death from the top story of our birth to the flat stones of the churchyard and wondering with an immortal Alice in Wonderland at the patterns of the passing wall."  Beerman is in wonder of the moments we experience on our journey, seeking to capture these ephemeral images in paint.
Many of the landscapes show his native North Carolina, from coastal Hyde County in the east, to the Blue Ridge Mountains in the west. All the works begin as plein air studies which are refined in the studio, and feature the intricate brushwork and subtle color harmonies for which the artist is well-known. This is John Beerman's third show at Craven Allen Gallery; he spent much of his career in New York, and now lives in Hillsborough.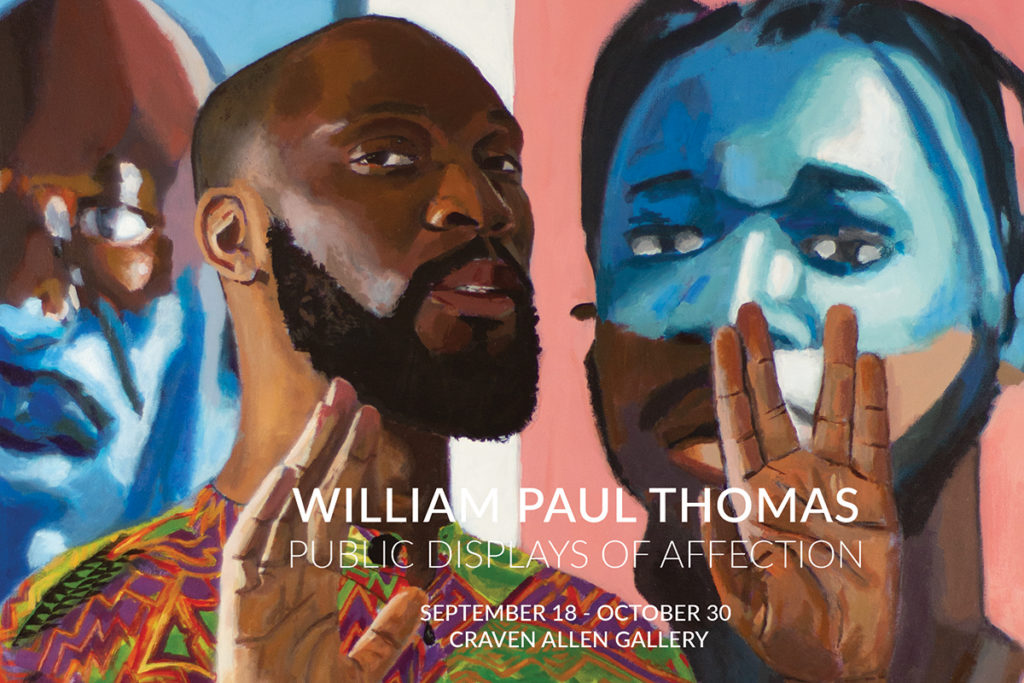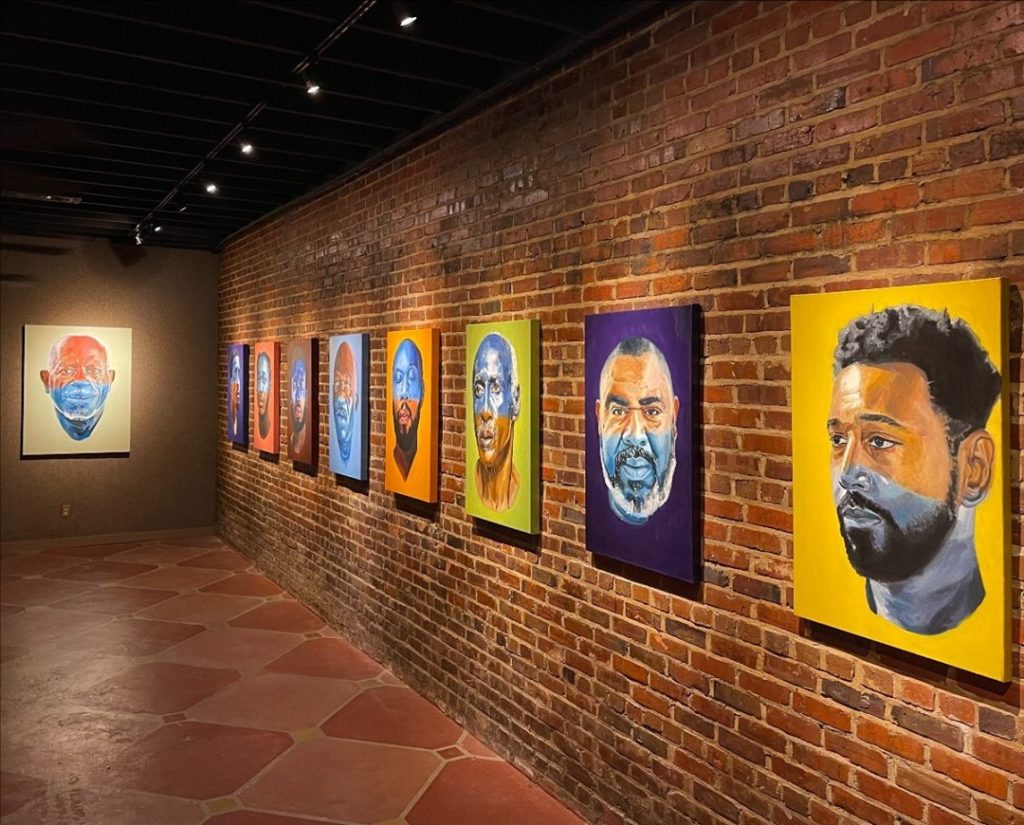 WILLIAM PAUL THOMAS
PUBLIC DISPLAYS OF AFFECTION
SEPTEMBER 18TH – OCTOBER 30
PLEASE JOIN US FOR AN INFORMAL
GALLERY TALK
WITH WILLIAM PAUL THOMAS
THURSDAY, OCTOBER 28TH
RECEPTION BEGINS AT 5:30 PM
TALK BEGINS AT 6 PM
Reflection from October 6, 2021
I have often described the Cyanosis paintings as metaphors for various forms of disenfranchisement.
On some days, and especially this morning, when I think more intently about how I see this visual metaphor played out in my life, I think these portraits are more about self-determination. In a society that has a ready supply of categories for "Black" men, my Blackness has already been predetermined. So the question that is always present for me is which of these predeterminations correspond to who I want to be and which ones I'd rather trash.
Years ago, Juan Logan recommended this collection of essays to me, "Black Cool: One Thousand Streams of Blackness" edited by Rebecca Walker. I think that the contributions to that text come closer to my personal experience of reconciling the celebration of my own Blackness with the recognition of how that same status marks us for exploitation.
If I could pick another title for this series, on my more optimistic days it might be called "BLACK COOL". That's way more refreshing than being deprived of oxygen. That's just how I feel this morning.
William Paul Thomas
Visit the William Paul Thomas gallery to see some of the works from the show.
William Paul Thomas's paintings are larger than life, both in physical presence and visual impact. Each image flirts with photorealism while maintaining evidence of a strong painterly hand, which is amplified by his rich color palette. Some of his subjects can be seen with their faces partially covered in blue, which he refers to as "Cyanosis". This effect is a visceral depiction of the conflict and trauma that we all hold just beneath the surface. Cyanosis challenges viewers to be more aware of not only their own hardships, but also those of the people they interact with every day.
The title of the show, Public Displays of Affection, refers to his intimate connection with the people he paints. "I choose specific models as a way of recognizing their significance in my life's path. I relish being able to honor everyday people through making images. We regularly celebrate women and men of prominence in mass media, so I take advantage of the opportunity to highlight the people that impact me on a more direct level than any untouchable celebrity or distant historical figure could.
A rising art star, William Paul Thomas was the youngest artist, and the only figurative painter, in the recent show Front Burner: Highlights in Contemporary North Carolina Painting at the North Carolina Museum of Art. He was the Brock Family Visiting Instructor in painting at Duke University for a year while Beverly McIver was a fellow at the American Academy in Rome. He currently teaches at Guilford College, and lives in Durham.
STATEMENT
Most of my creative work is tangled up with the attempt to grant access to anyone on the outside. This gets complicated. Who said they even wanted to come in? I might paint a portrait of a young man who [understandably] has never set foot in the art gallery that sits within a mile of his childhood home. We invite his family to see the portrait. Maybe they'll continue to visit the gallery after my show is de-installed. Maybe they won't.
When I talk about my work to viewers, I'll recount things from other intimate conversations to illustrate how personal exchanges inspire my decision making. I love sharing carefully designed paintings, prints, and digital experiments for public consumption. Whether the images are depictions of anonymous floating heads, headless bodies frozen in time, or cryptic phrases that invite extended inquiry, my efforts are heavily bent towards highlighting the questionable barriers that exist between us and everything else.
ABOUT WILLIAM PAUL THOMAS
William Paul Thomas is a visual artist based in Durham, North Carolina.  His work is centered on making images to record his life experiences and observations. For over 10 years he has created intimate painted portraits of everyday people that he chooses as a way of recognizing their significance in his life's path.  In addition to painting and drawing, he also experiments with video and photography to capture idiosyncratic, abstracted depictions of love, joy, and adversity.  He earned a Bachelor of Fine Art degree in Studio Art from the University of Wisconsin-Whitewater and a Master of Fine Art Degree in Studio Art from the University of North Carolina-Chapel Hill.  He is currently an adjunct visual art instructor at Guilford College
When I talk about my work to viewers, I'll recount things from other intimate conversations to illustrate how personal exchanges inspire my decision making. I love sharing carefully designed paintings, prints, and digital experiments for public consumption. Whether the images are depictions of anonymous floating heads, headless bodies frozen in time, or cryptic phrases that invite extended inquiry, my efforts are heavily bent towards highlighting the questionable barriers that exist between us and everything else.
DAVID DAVENPORT
CHASING LIGHT
BRYANT HOLSENBECK
ANIMALS IN THE HOOD
now showing through September 4th
Nature is highlighted in two shows at Craven Allen Gallery: Chasing Light, paintings by David Davenport, and Animals in the Hood, mixed media sculptures of recycled materials by Bryant Holsenbeck.

With his BFA in hand, David Davenport left his rural hometown of Bear Creek, NC for work in advertising, culminating as an art director in New York.  Eventually the pull of fine art proved too strong; he went back to school for a Master of Fine Arts degree, and returned to North Carolina where he has made his career painting the world he knows best.
Davenport makes sketches and paints in the field, often returning to the same subject many times throughout the seasons and in all weathers.  He returns to the studio to refine his vision in oils or acrylic, combining abstraction with realism and a strong sense of color.  Canvases range from the intimate to the expansive.   He maintains a studio in Durham, and his work is in corporate and private collections throughout the state. The show marks his debut at Craven Allen.
Bryant Holsenbeck is an environmental artist who makes large-scale installations and small-scale sculptures that document the waste stream of our society and highlight the importance of the natural world. She has shown her work and taught throughout the United States and Australia.  Click here to see a short documentary about Bryant  on NCPBS.
Whether she is making elegant, herons sculpted of wire and found paper, or colorful fuzzy rabbits and robins out of fabric scraps, her work has a vibrancy and life which belies the castoff nature of the materials.  "I make the animals I see around me. They inspire me and give me hope. They are beautiful. They are survivors of our own human neglect and greed. I feel such gratitude for them."  This is her third show at Craven Allen Gallery.

MICHAEL TICE
DREAMSCAPES
A Retrospective
In the gallery April 24th – July 3
Michael Tice, who exhibited widely during his 35 years in New York City before returning to the south, opens DREAMSCAPES: A RETROSPECTIVE at Craven Allen Gallery on Saturday, April 24th.
Tice uses his luscious color palette and love for line and pattern to conjure hidden narratives of the American Dream, exploring themes of innocence—and its loss. "My work has evolved and changed over the years, from early works which were rooted in a kind of domestic surrealism, to a more complex exploration of sexuality and gender roles."
The artist works instinctively. "My work often has a dream-like quality. I'm concerned with fluid thinking and decision making during the process. Intuition is important; I hope to surprise myself. I never fully plan a work, but rather let it evolve and change as I go along in the process of creating." The works on display have been created over four decades and show his mastery of a variety of media, including acrylic, pastel, charcoal, watercolor and gouache.
Michael Tice received a BFA from the University of South Carolina, a fellowship to the MacDowell Colony, a fellowship from the SC Arts Commission, and has done graduate work at the University of North Carolina-Chapel Hill, and at New York University. He lives in Carrboro.
BEVERLY McIVER
THE LIGHT WITHIN
Through April 3rd
Beverly McIver returns to Craven Allen with a powerful new body of work.  The show can be viewed in the gallery with social distancing, as well as online on the Craven  Allen's  Beverly McIver gallery page.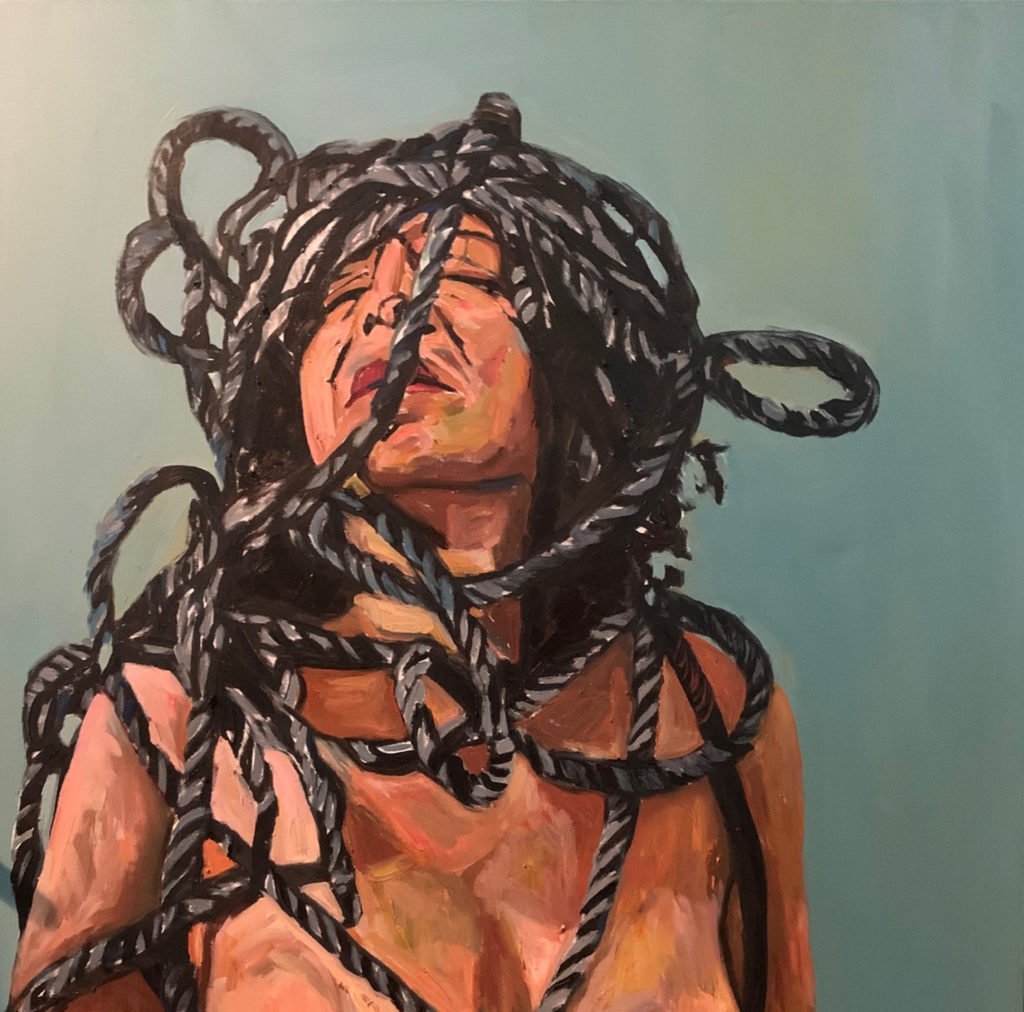 A nationally known artist who has been named Top Ten in Painting by Art News, Beverly McIver was working nonstop, teaching classes at Duke, leading workshops all over the country, caregiving for her family, and painting when she could. When Covid hit, along with all of 2020's racial and political turbulence, McIver's life changed dramatically. McIver faced the chaos and isolation the only way she knew how—through paint.
It was an intensely productive time.  "I painted daily. It was both thrilling and terrifying; all this energy poured into two dozen new paintings," says McIver.  Through a series of self-portraits and paintings of family and friends, McIver confronted her feelings and fears.   She created portraits of her sister and her 94-year-old father as a means of remaining intimate even as they all struggled with loneliness and isolation. A colorful silk scarf draped over her head became a mask or a blindfold. Light filtering through blinds in her home beautifully contour her face, yet also suggest prison bars.  A heavy black rope figures prominently in many of the new works. "Black friends interpreted the rope wrapped around my head as a noose and white people saw the rope as my dreadlocked hair blowing in the wind. The interpretations of the two worlds I straddle daily, collided."
"My voice felt loud and unapologetic. I felt power in speaking my truth. I hadn't been loud enough, and I needed to scream it," says McIver. "These new works do just that. I have never felt the need to be so bold about constraints and restrictions. This is the time to be brave."
A career survey of the artist's work begins at the Scottsdale Museum of Contemporary Art in 2022, before touring the country.  McIver is curating a show of contemporary African American artists working in North Carolina for Craven Allen Gallery in 2021.

PEG BACHENHEIMER
New Paintings
PAUL HRUSOVSKY
New Paintings
RONAN KYLE PETERSON
Red Earthenware
September 19 – October 31
Peg Bachenheimer, Paul Hrusovksy and Ronan Kyle Peterson combine elements of nature with pure abstraction for their three-person show Craven Allen Gallery. The gallery is open for viewing with social distancing measures in place, and the works will able to view on the gallery's website, cravenallengallery.com
Peg Bachenheimer creates landscapes and abstract paintings using the time-honored —and challenging—techniques of oil with cold wax, and encaustic hot wax. "This ancient and durable medium has a mystery, luminosity and organic quality that give the final pieces a spiritual feeling. My process involves discovery; not knowing all that will emerge is an act of faith." Bachenheimer hales from a family steeped in the art and museum world; she brings a discerning eye to her work which has found a wide audience.
Longtime Craven Allen Gallery director Paul Hrusovsky returns home with a vibrant collection of canvases based on organic shapes, rich with movement. The luscious surface textures have a visceral, tactile quality, enhanced by stencils and silk-screens. A Triangle gallery staple for over 30 years and outspoken arts advocate, Hrusovsky's work is in major public and private collections.
With his modern, edgy take on traditional North Carolina functional pottery, the work of Ronan Kyle Peterson stands out as singularly imaginative. Peterson combines nature imagery with bold shapes and striking colors, seeking " … to create a comic book interpretation of the natural world with a focus on rocks and trees and their role in the perpetual organic comedy of growth and decay." A native of Poplar, NC, Peterson's work is popular with collectors interested in the future of our state's most iconic medium.
PAST SHOWS

FROM MEMORY: PAINTINGS & DRAWINGS BY SUE SNEDDON
In person and online through September 5
SPECIAL FACEBOOK LIVE MUSICAL  EVENT
with Sue Sneddon and friends from the Mobile City Band!
WEDNESDAY, SEPTEMBER 2nd , 7-8 PM
Watch the video of the closing week event here!
Sneddon's land- and seascapes convey the quiet grandeur of the natural world in paintings ranging from intimate pastels to large oils on canvas.
From Memory is Sneddon's 14th exhibition, over a 25 year period, at Craven Allen Gallery. The title refers to the artist's process of letting her memories of scenes and events distill over time, as she contemplates the perfect way to capture an experience through her artwork.
"Even as a child I would say to myself, if I can paint the joy I feel in this moment, I want to be a painter," says Sneddon. "Regardless of the time period, the paintings in this show represent pivotal moments throughout my life to remember and share."
---
PAST EXHIBITIONS