RENZO ORTEGA
RENZO ORTEGA
CHIEKO MURASUGI & RENZO ORTEGA
SEQUENTIAL
New Paintings
May 20 – July 8
Please join us for the closing reception on Saturday, May 20th, 3-5 pm!
Renzo Ortega's works are featured above; visit  Chieko Murasugi's  gallery page to see works her works in the exhibition.
Painting is a sequential endeavor. A painting consists of a sequence of brush strokes, a series is a sequence of paintings, and a body of work is the culmination of the artist's production. Every painter is also indebted to the long succession of painters who preceded them. In this exhibition, painters Chieko Murasugi and Renzo Ortega, arriving from very different backgrounds and pictorial approaches, create works that speak to the idea of sequence, both within the canvas and outside of it, all the while expressing their vision of what painting means at this moment.
Chieko Murasugi employs personal symbols and visual illusions within an abstract language to access the realm of ideas. She visualizes the notion of chance by using a computer program to "roll the dice" and introduce randomized elements into ordered sequences and patterns. In these paintings, selected features are randomized within both traditional and novel patterns to create a balance between predictable and unstable perceptions. Chieko frequently employs the hexagon, a Japanese symbol of longevity and a shape that holds personal significance. By chance, her parents narrowly escaped the fires from M-69 incendiary bombs dropped on Tokyo during WWII, bombs housed in hexagon shaped containers. In other paintings, Chieko incorporates the recently discovered Einstein hat shape that is based upon the hexagon and creates tile patterns that do not repeat. Lack of repetition is a crucial characteristic of randomness.
Renzo Ortega's painting practice consists of consistent, repetitive processes, which is how he masters his craft. Renzo believes that a constant pictorial rhythm has existed since the beginning of human existence. He relates rhythm with heartbeats and connects paintings with bodies' frequencies. For Renzo, this consistent sequential rhythm exists in the masterworks of the history of easel painting. For example, in the drumroll-like strokes of bold impressionist brushwork, in the obsessively revisiting over and over color sequences of Van Gogh, in the endless different point of view approach on the same theme of modernism, to the tremendous progressive line of twentieth-century pictorial isms, which unleashed a free-minded contemporary painting that is the result of an infinite loop of expression through painting's physicality.
The SEQUENTIAL exhibition invites the observer on a visual journey, generating an organic relationship between the artworks and the gallery's visitors. Through the dynamics of color, form, ideas, and narratives, Chieko Murasugi and Renzo Ortega seek to generate a dialogue and the experience of art appreciation with the audience.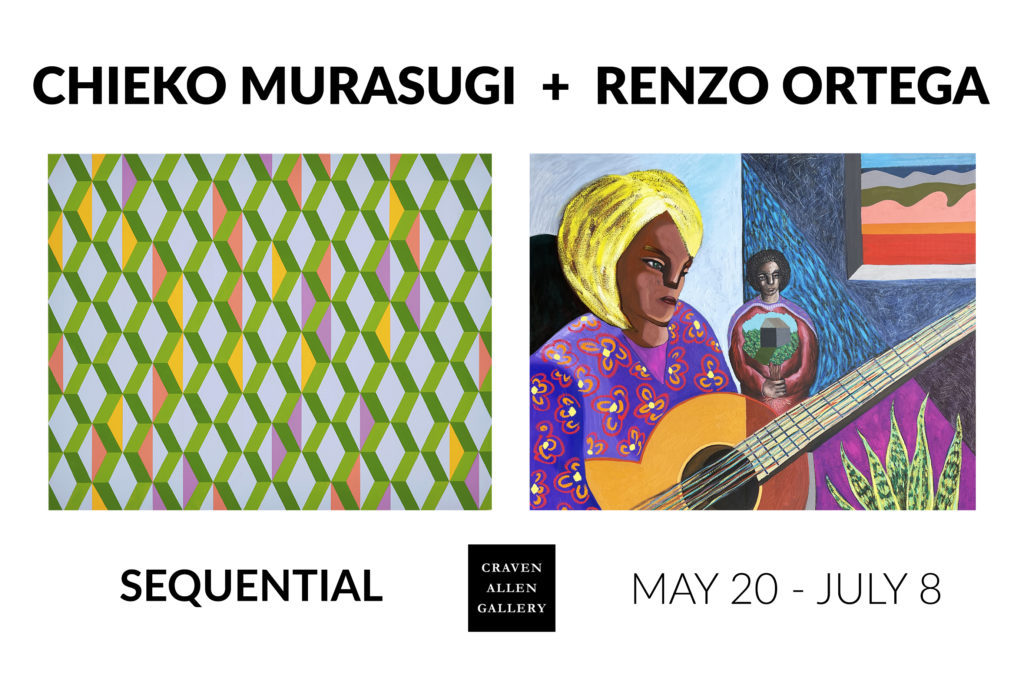 RENZO ORTEGA
STATEMENT
Art generates bonds and belongs to people's memories. My artwork reflects the sociopolitical and geographical context where I live. In Lima-Perú, where I grew up, the Andes' colors melt with urban chaos. I lived in a multicultural New York for 16 years. I now live in North Carolina, where the landscape view transformed the colors of my palette. These transitions have influenced my art practice; I embody freedom in the various styles that coexist in my paintings, and I believe painting is an infinite loop of life itself, a vast universe of artistic creation.
In North Carolina, I have been working on a series of paintings about my impressions of our current times. My native heritage, empowered by my immigrant experience, solidifies my American identity that connects and acknowledges the lands of the original people that have been here in the past, is part of the present, and constructs a prominent future. I believe my artworks belong to the Southern region and are part of the American Painting's journey that started thousands of years ago, survived the European encounter, adapted to the modernist twenty-century, and are embedded now with our digital contemporaneity.

ABOUT RENZO ORTEGA
Renzo Ortega (Lima, Peru 1974) is an artist based in Carrboro, North Carolina. Renzo Received a BFA in painting from the Escuela Nacional de Bellas Artes del Peru (1999), studied at the Art Students League of New York (2000-04) and has his MFA in painting from Hunter College (2014). His artwork has been exhibited in solo and group shows in the United States and Peru, and have been commissioned to create public art projects and community murals. His recent solo exhibitions have been at TW Fine Art in Palm Beach (2022) and LUMP Gallery in Raleigh, North Carolina (2021). Renzo's artwork has been exhibited in museums such as the NASHER Museum of Art (Durham, North Carolina, 2022), Southeastern Center for Contemporary Art SECCA (Winston-Salem, North Carolina 2020), the Works on Paper: 2017 Exhibition at The Weatherspoon Art Museum in Greensboro, in the S- Files Biennial at El Museo del Barrio (New York 2007) and Queens International Biennial at the Queens Museum in 2006. He is a recipient of the 2018-2019 North Carolina Arts Council Artist Fellowship Award, 2018- 2019 Ella Fountain Pratt Emerging Artists Grant Durham Arts Council, 2018 Orange County Arts Commission Artist Project Grant and 2016 Queens Council on the Arts New Work Award. In 2013, as a Kossak Travel Grant recipient, Renzo traveled to Berlin to study German Expressionism, and also in 2015 traveled to Honduras as a part of the U.S. Department of Cultural Affairs Cultural Envoy Program. He partook in the Visiting Artist Residency at the Rubenstein Arts Center at Duke University in 2019, and In 2020, he was the inaugural artist of the New Wave Art Wknd artist-in-residence program in West Palm Beach.