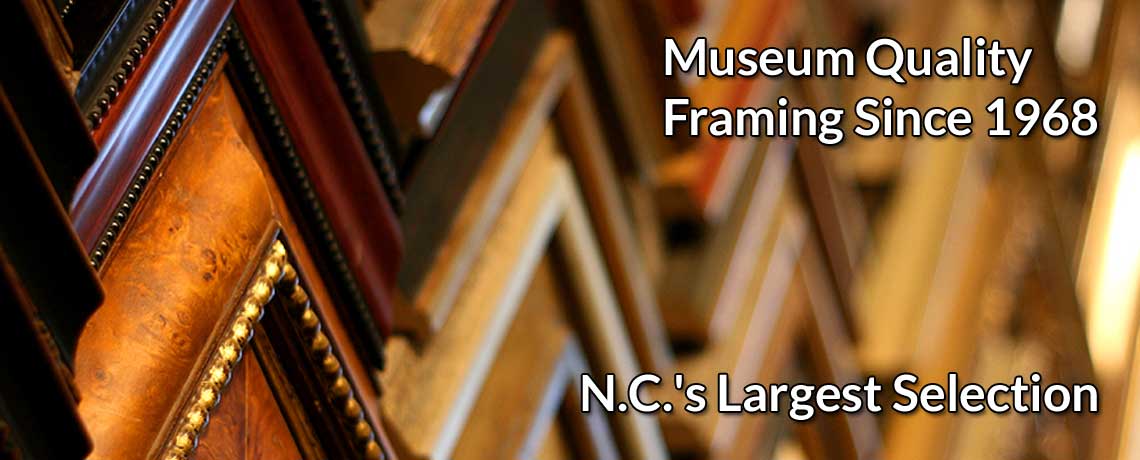 The Triangle's premier framer since 1968

Gallery featuring local and nationally known artists

Distinctive museum quality framing

Archival and conservation materials

Region's LARGEST selection of picture frame mouldings, including unique lines exclusive to our shop

Museum glass

University specialists in framing for Duke, UNC, Central, State, Durham Tech, and other schools for projects large and small.

Professional corporate services

All work done on site in our large, light-filled workroom.
Whether you have museum quality artwork to display in your corporate office, or a drawing by your child that you'd like to preserve forever, we can help you find the perfect frame.  We have the best selection of frame mouldings, mats, fabrics and glass in North Carolina–many of them exclusive to our shop.  Our expert staff is happy to help you discover just what you're looking for, whatever your budget.We have framed everything you can think of, from kimonos to important historical documents to sports memorabilia.  We deal with over 70 suppliers, manufacturers and craftspeople to bring you the best selection from around the country, and around the world. We use the best conservation quality, archival materials, and offer a variety of glazing materials which can protect your artwork from harmful UV rays.  We specialize in Museum Glass, which provides not only the utmost in protection, but also is practically invisible.
Frequently Asked Questions
I have no idea what I want, and you have such a big selection.  How will I ever make a decision?
Everyone on our staff has years of experience helping people find the perfect frame for their budget.  We have over 120 years of combined experience on staff.
What kind of things do you frame?
In short, anything and everything. Although we frame many museum pieces, much of the work we frame are family pieces, diplomas, children's artwork, needlework, posters, sports memorabilia . . . anything that has value to you!  Our prices are extremely competitive. The key difference between us and a big box chain store is that we have a much better selection in all price ranges, use archival materials, and have knowledgeable staff with years of experience to help you.  In fact, any staff member who would  help  you has a bachelors or masters degree in fine art.
Do you frame mirrors?
Yes!  We can frame any sized mirror using exactly the moulding you want—you're limited only by your imagination!
 Where do you get your materials?
We use over eighty different suppliers from all over the country to bring you the most exciting, beautiful and best-value mouldings to our customers.  In fact we are the exclusive Triangle retailers for some lines.

Do you do the work on the premises?
Yes, your work never leaves our gallery until it is finished.  The work is installed in our large, natural-light filled work room.
 Do I need to make an appointment?
If you've found someone you'd particularly like to work with, please call ahead and schedule an appointment if you'd like, but everyone in the gallery has more than 20 years of framing experience.
What about conserving an old or damaged piece?
Bring the piece in to the gallery and we can discuss options.  We work with outstanding local conservators who can pick up and deliver the work at the gallery and offer free estimates.  We do not take a commission or a referral fee for these services.
List of companies we represent:
Frames by Edward Wright–the region's finest finished corner frames
Larson Juhl featuring the Biltmore line inspired by the Asheville landmark
House of Troy picture lights
Fine Art Framing – American hardwood and hand-guilded floater frames
Albert Litter/Unique Picture Framing
Wesley Allen American Hardwood hand-finished frames
Roma handcrafted in Italy
Prisma hand cast acrylic frames
Bravura
AMCI/Regence
Munn
Foutiou
Bella
Nurre Caxton
Nielsen wood and metal moudlings
Clark Metal Mouldings
Designer Metal Mouldings
Bainbridge museum rag mat boards with artcare technology
Crescent matboards
Rising rag museum matboards
Peterboro conservation and museum boards
Small Corp Museum Acrylic Cases
Jonah Frameworks
Max
Shenandoah
Raphael's Specialty Fabrics
Studio
Turner
Nelson
Omega
Guerrini Italian inlaid wood frames
Bella Italian inlaid wood frames
Animaux
Inline Custom Oval Frames
AMPF
G & G/International Moudlings
ASF handcrafted American hardwood frames and welded steel frames
Tru Vue Conservation UV, Non-glare and Museum Glass
Artglass
Decor
CDNV
C & J
Artisan Frameworks