North Carolina's premier custom picture framer since 1968, Craven Allen Gallery/House of Frames features the largest selection of framing choices in the region, as well as the Triangle's most experienced picture framers. Our gallery features local and nationally known artists.
Everyone at Craven Allen Gallery is deeply saddened by the passing of Phil Freelon on July 9, 2019.  If you'd like to honor him with a contribution to the North Star Church of the Arts, follow this link.
---
EXHIBITIONS
---
TONY ALDERMAN WATERLINE NEW PAINTINGS FROM THE NORTH CAROLINA COAST
SHAWHAN LYNCH LIGHT FUSION GLASS
Through August 24th
Tony Alderman was the first staff member of Craven Allen Gallery when owners John Craven Bloedorn and Keith Allen Wenger created the gallery upon purchasing the House of Frames business in 1992. His artistic skills were integral to the early success of the gallery and framing business, and now life has come full circle as Alderman returns there for his first solo show.
Alderman has created a noteworthy career painting nautical and coastal scenes featuring the historic fishing communities of the North Carolina Coast. "I seek to capture in paint the convergence of the natural beauty of the coast with evidence of the lives of the people who have made their homes there. Our coast's salt marshes and sunsets, deserted train stations, and rusting water towers and old churches make for a visual feast." Although this way of life is under threat from pressures both environmental and economic, Alderman takes inspiration in the resiliency of its residents. His paintings are at once richly detailed, and spare in their compositions. He lives in Durham with his wife Catherine, but travels to the coast as often as possible.
Glass artist Shawhan Lynch also takes inspiration from nature, creating "kiln-formed linear seascapes and landscapes from memories of color, shapes and textures." Glass is worked in a complex series of steps involving both hot firing and cold work. She makes both functional bowls and platters in addition to standalone art pieces. She has a studio in the woods in Timberlake, North Carolina; this is her first solo exhibition.
The shows continue through August 24th.
Craven Allen Gallery is located at 1106 ½ Broad Street in Durham. Gallery hours are 10 a.m. to 6 p.m. Monday through Friday, and 10 a.m. to 4 p.m. on Saturday. For more information, please call the gallery at 286-4837 or visit www.CravenAllenGallery.com.
TONY ALDERMAN
STATEMENT
My work over the last ten years has been directed by two deeply intertwined passions: love for the North Carolina coast, and wonder at the way the passage of time affects everything we see.
I seek to capture in paint the convergence of the natural beauty of the coast with evidence of the lives of the people who have made their homes there. Our coast's salt marshes and sunsets, deserted train stations, and rusting water towers and old churches make for a visual feast. Shrimp boats (many built here in North Carolina), old and soon-to be-abandoned nets, fish houses, piers, and reed marshes show an ephemeral moment in the present which speaks to both the past and the future of life on the coast.
The residents themselves, life-battered but resilient, are inextricably bound up in these paintings. The people I have met on this journey have a proud history. They are fighting to maintain a way of life, and their decades-long connection to the sea. I hope to honor their lives, and the memories of those who came before them, by conveying their strong sense of belonging to this special place, and the serenity that comes when one is tied so closely to nature, regardless of the hardships.
In this decade of painting decaying coastal towns struggling to survive, it's that tranquility which stays with me. When I gaze out at a sunrise coming over the salt marshes of Lockwood Folly River, I am filled with a profound sense of peace of life lived in the continuity of nature—in sky, clouds, earth and water. It is something of this sense of peace that I hope to share with you with the paintings in Waterline.
ABOUT TONY ALDERMAN
Tony Alderman has been painting for over thirty-five years, focusing on those images that speak of life well-spent and well-worn. He is especially known for his nautical and coastal paintings. A lover of community, Tony strives to learn about the surroundings that shape the people in the communities he paints, and how the community in turn affects the environment.
Tony received his BFA from the University of Mobile, where he studied with Charles "Mac" Clark. His work can be found in many corporate and private collections. He lives in Durham with his wife Catherine, but goes to the coast as often as possible for meditation and inspiration.
SHAWHAN LYNCH
STATEMENT
I create kiln formed linear seascapes and landscapes from memories of color, shapes and textures. The sky at dawn or dusk is often filled with bands of color; waves make patterns in the dry sand, making it darker and almost liquid. The vivid greens and cool blues of Iceland are so different from the hot colors of the American Southwest, and both inspire me.
Often the color of a piece of glass will trigger the start of a design. I build my pieces with strips of cut glass that are dammed and formed in the kiln, then cold worked and fired again, either as a panel or formed using simple ceramic forms. I create bowls and plates using stringers (long thin pieces of glass) and layer them with thicker pieces of glass to establish depth. Each piece is then cold worked using a belt sander, a sand blaster, grinding wheels and pads, and then fired again over a ceramic mold. I enjoy the visceral process and the sense of discovery when each piece is finished.
ABOUT SHAWHAN LYNCH
I was born an Army brat, but have made Hillsborough and most recently Timberlake, NC my home for the last thirty-seven years. After 28 at years at Duke, I retired to help care for my sweet mother-in-law. As her world became smaller, I needed a creative outlet I could do at home alone. Always fascinated by glass, I took classes at Carolina Glass. From the first zip of the first cut I was in love. It's been an intense labor of love. I've since studied at the Corning Glass Studio with Marty Kremmer and Alyssa Oxley, with Brad Walker, and at the Oatka Glass Studio. Glass has become an integral part of my life.
UP NEXT:
DAMIAN STAMER
UNSEEN
Watercolors and Works on Paper
Opening at Craven Allen Gallery September 7th
Through November 2nd
Damian Stamer (b. American, 1982) received his Master of Fine Arts from the University of North Carolina at Chapel Hill as a Jacob K. Javits fellow in 2013 and his Bachelor of Fine Arts from the Herberger Institute of Art and Design and Barrett, The Honors College at Arizona State University (where he studied painting with Craven Allen Gallery artist Beverly McIver) as a National Merit scholar in 2007. He also studied at the Hungarian University of Fine Arts as a Fulbright grantee, and the State Academy of Art and Design in Stuttgart, Germany as a Rotary Ambassadorial scholar.
Stamer was last seen at Craven Allen Gallery with Greg Lindquist in conjuction with his exhibition Altered Land at the North Carolina Museum of Art. His first Craven Allen show was Crosscut, juxtaposing his work alongside photographs from the Jim and Jane Finch collection.  Recent museum exhibitions include Area 919 at Duke University's Nasher Museum, and The Things We Carry: Contemporary Art in the South at the Gibbes Museum in Charleston.  In 2019, his work will be seen in exhibitions in the United Arab Emirates and Japan.
Damian's contemporary paintings explore themes of memory and loss through formal and conceptual approaches. Detailed architectural forms reminiscent of his childhood memories of the South are combined with gestural brushstrokes that push and pull the images into existence. The artist lives and works in Durham, North Carolina.
Statement
I paint places close to home, barns and abandoned buildings. As adolescents, my twin brother and I rummaged through rooms pregnant with secrets, inspecting forgotten objects in search of hidden treasures. Moldy mattresses whispered of sex, drugs, and shelter from the winter cold. Adrenaline of discovery often mixed with the fear of being discovered. Even today, standing in these seemingly empty places, you never know if someone had been here twenty years, or twenty minutes ago.
I am undoubtedly comforted by this landscape. However, despite my numerous positive memories, these ruins also represent a past and present I too often did not see. The centuries-old industries that brought many of these picturesque barns were built upon slavery, oppression, and denial of human rights. Although transgressions may be buried deep beneath the soil, some of the power structures that enabled them remain.
I am shaken by an old barn's history, yet I find beauty within it. Time is visible here. Quiet moments near the sublime when afternoon light rakes the grain of a fallen beam, or cloud-like stuffing erupts from a rotten chair. Violent and tender, this beauty hinges on the delicate nature of existence. These remnants are, like us, soaked with impermanence. We cannot escape a similar fate.
I depict these icons of the Carolinas not to monumentalize, but rather to question my identity embedded and reflected within them. Nostalgia, sentimentality, naiveté, violence, loss, guilt, fragility, and complicity coexist, and can prove difficult to reconcile. What else can I still not see?
see?
Press
---
NEWS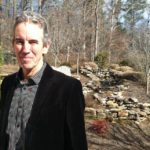 Reporter Joe Johnson of the Durham Herald-Sun tells how Thomas Sayre inspired students at the Hill Center in Chapel Hill! Read more ….READ MORE
---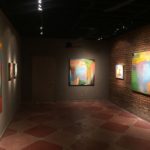 In the early 20th century the artist Wassily Kandinsky (1866-1944) realized multiple paint colors, which did not represent a house or a tree or a person, could be applied to a canvas and it would be a viable painting. It was called abstraction and it marked a revolution….READ MORE
---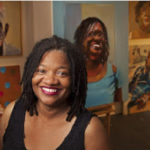 The Anyone Can Fly Foundation is honoring Beverly McIver with its Lifetime Achievement Award. Faith Ringgold will host a garden party benefit honoring the artist. The mission of the foundation is to expand the art establishment's canon to include artists of the African Diaspora….READ MORE
---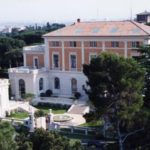 Beverly McIver has been awarded the Rome Prize.  Also in the news, her HBO documentary Raising Renee is now available to stream on Amazon Prime. For over a century, the AMERICAN ACADEMY IN ROME has awarded the Rome Prize to support innovative and cross-disciplinary work in the arts and humanities….READ MORE
---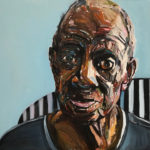 Beverly McIver was recently honored by the American Academy of Arts and Letters, America's most prestigious honorary society of architects, artists, writers, and composers, with a purchase award…READ MORE
---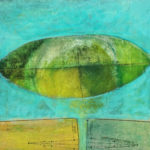 Paintings by Craven Allen artists Linwood Hart, Sue Sneddon and Damian Stamer were featured recently in the HGTV tv show LOVE IT OR LIST IT…READ MORE
---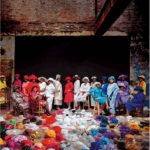 Fresh off the heels of his trifecta of museum shows at the NCMA, Nasher, and Ackland, Burk Uzzle is featured in the News & Observer choosing framing at Craven Allen for his incredible Greenville show…READ MORE