North Carolina's premier custom picture framer since 1968, Craven Allen Gallery/House of Frames features the largest selection of framing choices in the region, as well as the Triangle's most experienced picture framers. Our gallery features local and nationally known artists.
DAVID DAVENPORT
CHASING LIGHT
BRYANT HOLSENBECK
ANIMALS IN THE HOOD
Opening Reception: Saturday, July 17th 5 to 7 pm
Through September 4th
Nature is highlighted in two shows opening at Craven Allen Gallery: Chasing Light, paintings by David Davenport, and Animals in the Hood, mixed media sculptures of recycled materials by Bryant Holsenbeck.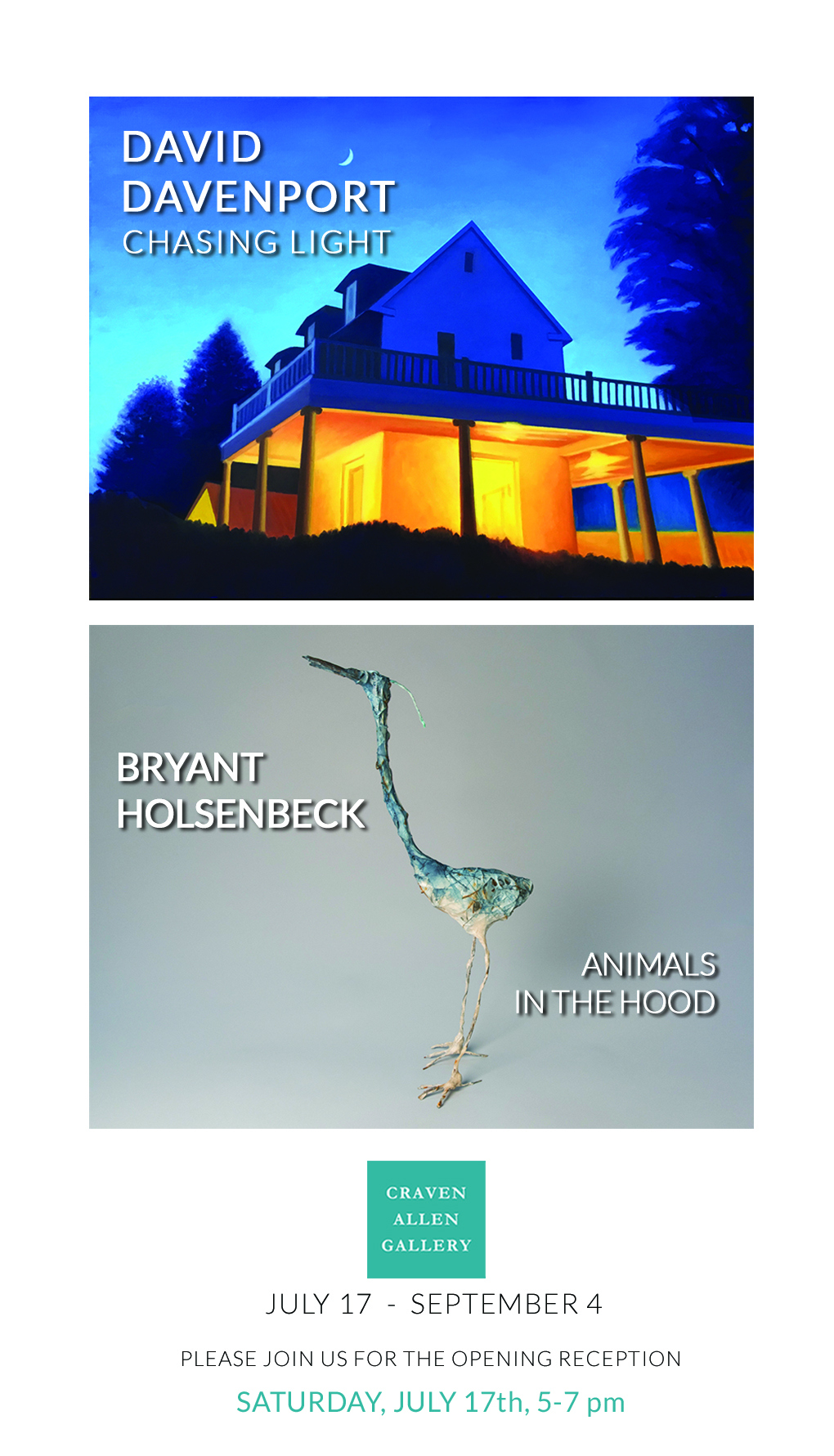 With his BFA in hand, David Davenport left his home in rural, eastern NC for work in advertising, culminating as an art director in New York. Eventually the pull of fine art proved too strong; he went back to school for a Master of Fine Arts degree, and returned to North Carolina where he has made his career teaching and painting the world he knows best.
Davenport uses his photos, imagination and memory to capture the rural landscape, often returning to the same subject many times of the day and throughout the seasons. He returns to the studio to refine his vision in oils, combining abstraction with realism and a strong sense of color. Canvases range from the intimate to the expansive. He maintains a studio in Durham, and his work is in corporate and private collections throughout the state. The show marks his debut at Craven Allen.
Bryant Holsenbeck is an environmental artist who makes large-scale installations and small-scale sculptures that document the waste stream of our society and highlight the importance of the natural world. She has shown her work and taught throughout the United States and Australia.  Click here to see a short documentary about Bryant  on NCPBS.
Whether she is making elegant, herons sculpted of wire and found paper, or colorful fuzzy rabbits and robins out of fabric scraps, her work has a vibrancy and life which belies the castoff nature of the materials.  "I make the animals I see around me. They inspire me and give me hope. They are beautiful. They are survivors of our own human neglect and greed. I feel such gratitude for them."  This is her third show at Craven Allen Gallery.
---