North Carolina's premier custom picture framer since 1968, Craven Allen Gallery/House of Frames features the largest selection of framing choices in the region, as well as the Triangle's most experienced picture framers. Our gallery features local and nationally known artists.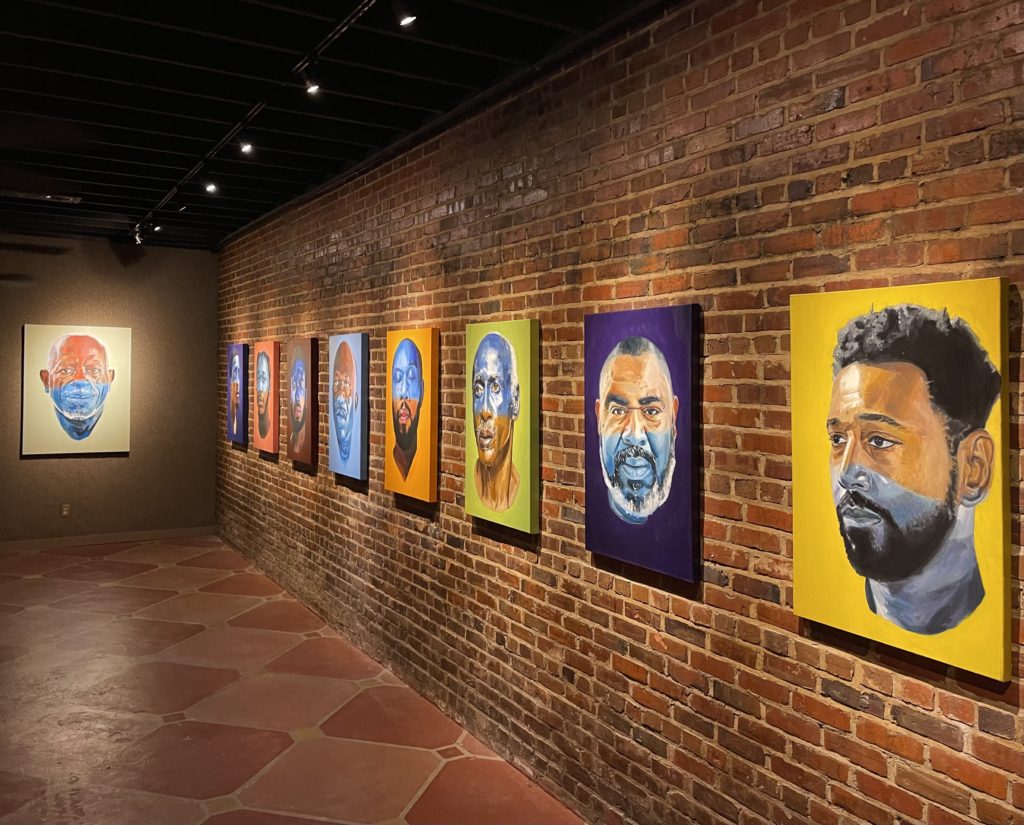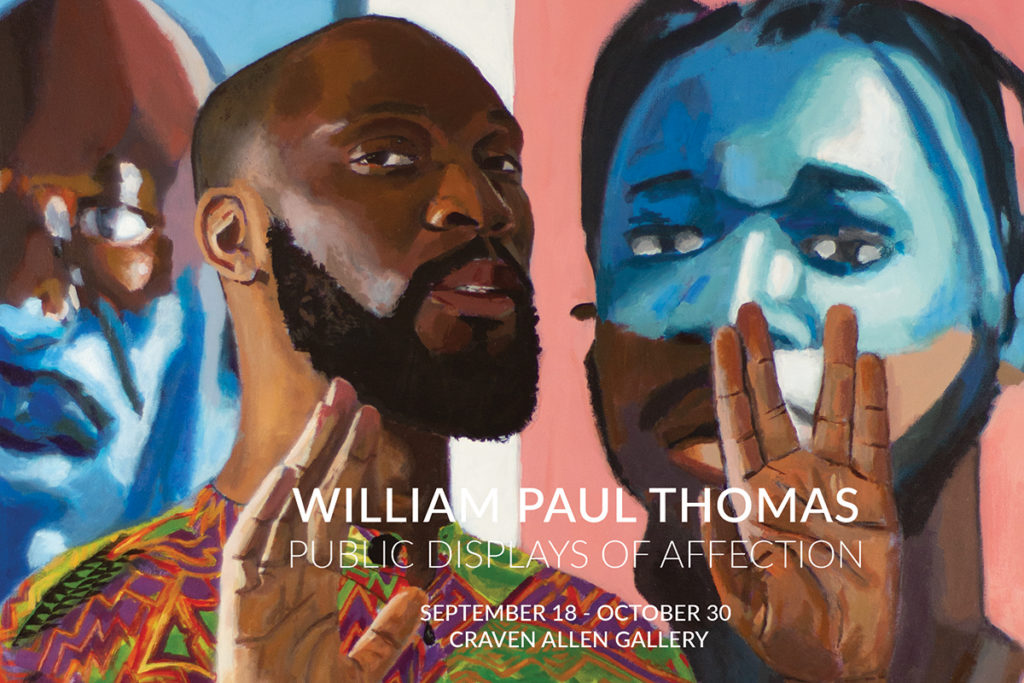 WILLIAM PAUL THOMAS
PUBLIC DISPLAYS OF AFFECTION
SEPTEMBER 18TH – OCTOBER 30
PLEASE JOIN US FOR AN INFORMAL
GALLERY TALK
WITH WILLIAM PAUL THOMAS
THURSDAY, OCTOBER 28TH
RECEPTION BEGINS AT 5:30 PM
TALK BEGINS AT 6 PM
Reflection from October 6, 2021
I have often described the Cyanosis paintings as metaphors for various forms of disenfranchisement.
On some days, and especially this morning, when I think more intently about how I see this visual metaphor played out in my life, I think these portraits are more about self-determination. In a society that has a ready supply of categories for "Black" men, my Blackness has already been predetermined. So the question that is always present for me is which of these predeterminations correspond to who I want to be and which ones I'd rather trash.
Years ago, Juan Logan recommended this collection of essays to me, "Black Cool: One Thousand Streams of Blackness" edited by Rebecca Walker. I think that the contributions to that text come closer to my personal experience of reconciling the celebration of my own Blackness with the recognition of how that same status marks us for exploitation.
If I could pick another title for this series, on my more optimistic days it might be called "BLACK COOL". That's way more refreshing than being deprived of oxygen. That's just how I feel this morning.
William Paul Thomas
William Paul Thomas's paintings are larger than life, both in physical presence and visual impact. Each image flirts with photorealism while maintaining evidence of a strong painterly hand, which is amplified by his rich color palette. Some of his subjects can be seen with their faces partially covered in blue, which he refers to as "Cyanosis". This effect is a visceral depiction of the conflict and trauma that we all hold just beneath the surface. Cyanosis challenges viewers to be more aware of not only their own hardships, but also those of the people they interact with every day.
The title of the show, Public Displays of Affection, refers to his intimate connection with the people he paints. "I choose specific models as a way of recognizing their significance in my life's path. I relish being able to honor everyday people through making images. We regularly celebrate women and men of prominence in mass media, so I take advantage of the opportunity to highlight the people that impact me on a more direct level than any untouchable celebrity or distant historical figure could.
A rising art star, William Paul Thomas was the youngest artist, and the only figurative painter, in the recent show Front Burner: Highlights in Contemporary North Carolina Painting at the North Carolina Museum of Art. He was the Brock Family Visiting Instructor in painting at Duke University for a year while Beverly McIver was a fellow at the American Academy in Rome. He currently teaches at Guilford College, and lives in Durham.
UP NEXT:
JOHN BEERMAN
PATTERNS OF THE PASSING WALL/ NEW PAINTINGS
Opening Reception: Saturday, November 13th, 5 to 7 pm
Through January 29th
John Beerman's iconic landscapes are found in major museums and collections across the country; his Three Trees, Two Clouds is one of the signature paintings at the North Carolina Museum of Art. "I have always found the natural world a gateway to the greater mysteries and meanings of life," says Beerman of his work.
The title of the show, Patterns of the Passing Wall, is taken from a quote by Vladimir Nabokov: "In a sense we are all crashing to death from the top story of our birth to the flat stones of the churchyard and wondering with an immortal Alice in Wonderland at the patterns of the passing wall."  Beerman is in wonder of the moments we experience on our journey, seeking to capture these ephemeral images in paint.
Many of the landscapes show his native North Carolina, from coastal Hyde County in the east, to the Blue Ridge Mountains in the west. All the works begin as plein air studies which are refined in the studio, and feature the intricate brushwork and subtle color harmonies for which the artist is well-known. This is John Beerman's third show at Craven Allen Gallery; he spent much of his career in New York, and now lives in Hillsborough.
---