North Carolina's premier custom picture framer since 1968, Craven Allen Gallery/House of Frames features the largest selection of framing choices in the region, as well as the Triangle's most experienced picture framers. Our gallery features local and nationally known artists.
---
EXHIBITIONS
---
---
Coming July 13th
TONY ALDERMAN
SHAWHAN LYNCH

---
"Animals are survivalists. Humans are, too," says artist Kathryn DeMarco in her statement for We The Animals. Both DeMarco and Bryant Holsenbeck are inspired by the resilience of nature in the modern world; both are keenly aware of our use of resources, using recycled materials to create their artworks– without sacrificing the integrity of their artistic visions.
Kathryn DeMarco's new collages range in scale from small, intensely colorful works featuring animals, to several life-size nude self-portraits in black and white in which she seeks "… to capture some of the feelings of defiance, distress, vulnerability, wonder and power that are universal for all people and animals." DeMarco typically begins with a life drawing in charcoal, which she embellishes with two- and three-dimensional materials and paint; text is also incorporated into many of her pieces. From a distance the works have bold lines and strong graphic qualities which speak to her remarkable skills in painting and drawing; up close the details of the source materials of her collage work emerge, adding layers of meaning.
Bryant Holsenbeck is an environmental artist who makes large-scale installations and ssmall-scale sculptures that document the waste stream of our society. She has shown her work and taught throughout the United States and Australia. Her recent book, "The Last Straw" about her continuing quest to live without single-use plastic is the subject of a short documentary on WUNC-TV.
Whether she is making elegant sparrows, herons and bats, sculpted of wire and found paper, or colorful fuzzy rabbits and chickens out of fabric scraps, her work has a vibrancy and life which belies the castoff nature of the materials. "I make the animals I see around me. They inspire me and give me hope. They are beautiful. They are survivors of our own human neglect and greed. I feel such gratitude for them." This is her second show at Craven Allen Gallery.
NEWS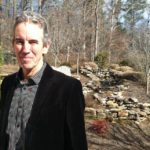 Reporter Joe Johnson of the Durham Herald-Sun tells how Thomas Sayre inspired students at the Hill Center in Chapel Hill! Read more ….READ MORE
---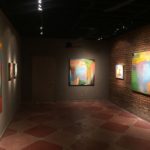 In the early 20th century the artist Wassily Kandinsky (1866-1944) realized multiple paint colors, which did not represent a house or a tree or a person, could be applied to a canvas and it would be a viable painting. It was called abstraction and it marked a revolution….READ MORE
---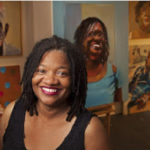 The Anyone Can Fly Foundation is honoring Beverly McIver with its Lifetime Achievement Award. Faith Ringgold will host a garden party benefit honoring the artist. The mission of the foundation is to expand the art establishment's canon to include artists of the African Diaspora….READ MORE
---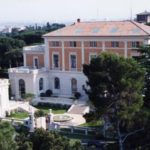 Beverly McIver has been awarded the Rome Prize.  Also in the news, her HBO documentary Raising Renee is now available to stream on Amazon Prime. For over a century, the AMERICAN ACADEMY IN ROME has awarded the Rome Prize to support innovative and cross-disciplinary work in the arts and humanities….READ MORE
---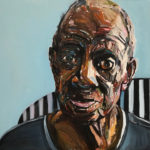 Beverly McIver was recently honored by the American Academy of Arts and Letters, America's most prestigious honorary society of architects, artists, writers, and composers, with a purchase award…READ MORE
---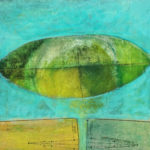 Paintings by Craven Allen artists Linwood Hart, Sue Sneddon and Damian Stamer were featured recently in the HGTV tv show LOVE IT OR LIST IT…READ MORE
---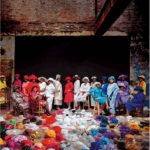 Fresh off the heels of his trifecta of museum shows at the NCMA, Nasher, and Ackland, Burk Uzzle is featured in the News & Observer choosing framing at Craven Allen for his incredible Greenville show…READ MORE