Damian Stamer
Damian Stamer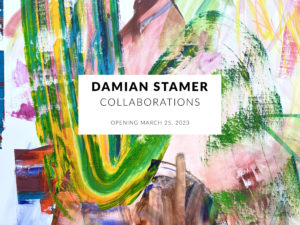 FROM INDYWEEK:  "
TO READ MORE, CLICK HERE!
DAMIAN STAMER
Damian Stamer (b. American, 1982) received his Master of Fine Arts from the University of North Carolina at Chapel Hill as a Jacob K. Javits fellow in 2013 and his Bachelor of Fine Arts from the Herberger Institute of Art and Design and Barrett, The Honors College at Arizona State University (where he studied painting with Craven Allen Gallery artist Beverly McIver) as a National Merit scholar in 2007. He also studied at the Hungarian University of Fine Arts as a Fulbright grantee, and the State Academy of Art and Design in Stuttgart, Germany as a Rotary Ambassadorial scholar.
Stamer was last seen at Craven Allen Gallery with Greg Lindquist in conjuction with his exhibition Altered Land at the North Carolina Museum of Art. His first Craven Allen show was Crosscut, juxtaposing his work alongside photographs from the Jim and Jane Finch collection.  Recent museum exhibitions include Area 919 at Duke University's Nasher Museum, and The Things We Carry: Contemporary Art in the South at the Gibbes Museum in Charleston.  In 2019, his work will be seen in exhibitions in the United Arab Emirates and Japan.
Damian's contemporary paintings explore themes of memory and loss through formal and conceptual approaches. Detailed architectural forms reminiscent of his childhood memories of the South are combined with gestural brushstrokes that push and pull the images into existence. The artist lives and works in Durham, North Carolina.
STATEMENT
I paint places close to home, barns and abandoned buildings. As adolescents, my twin brother and I rummaged through rooms pregnant with secrets, inspecting forgotten objects in search of hidden treasures. Moldy mattresses whispered of sex, drugs, and shelter from the winter cold. Adrenaline of discovery often mixed with the fear of being discovered. Even today, standing in these seemingly empty places, you never know if someone had been here twenty years, or twenty minutes ago.
I am undoubtedly comforted by this landscape. However, despite my numerous positive memories, these ruins also represent a past and present I too often did not see. The centuries-old industries that brought many of these picturesque barns were built upon slavery, oppression, and denial of human rights. Although transgressions may be buried deep beneath the soil, some of the power structures that enabled them remain.
I am shaken by an old barn's history, yet I find beauty within it. Time is visible here. Quiet moments near the sublime when afternoon light rakes the grain of a fallen beam, or cloud-like stuffing erupts from a rotten chair. Violent and tender, this beauty hinges on the delicate nature of existence. These remnants are, like us, soaked with impermanence. We cannot escape a similar fate.
I depict these icons of the Carolinas not to monumentalize, but rather to question my identity embedded and reflected within them. Nostalgia, sentimentality, naiveté, violence, loss, guilt, fragility, and complicity coexist, and can prove difficult to reconcile. What else can I still not see?
Press
Join us Tuesday, October 8, 6-8 pm
for a gallery talk with
LARRY WHEELER with
DAMIAN STAMER and
BEVERLY MCIVER
PAINTING LARRY
Two of the Triangle's most exciting artists took on the challenge of painting Larry Wheeler, director of the North Carolina Museum of Art, on the occasion of his retirement. Now you can join Larry Wheeler, Damian Stamer and Beverly McIver as they use these paintings as a springboard for a discussion about art from the vantage point of both artist and collector.
Seating will be limited; to reserve a spot please call Craven Allen Gallery at 919-286-4837.   Standing room will also be available, as well as streaming on Facebook Live.