MJ SHARP
ABOUT MJ SHARP
I still love my day job of teaching undergraduates black and white film photography and advanced projects at Duke.  We've also had our Duke Faculty Union for three years now, and I couldn't be more honored to serve alongside faculty dedicated both to their individual disciplines and the furtherance of teaching and learning conditions at Duke more generally.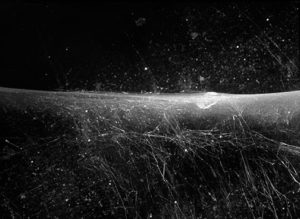 I'm embarking on two new projects–one close to home and one across the ocean.  This image, Cobweb, is my favorite so far of work around the house.  I'm continuing to explore these micro-worlds and to play with some favorite toys of the past few years-a vintage 5 x 7 film camera and a new panoramic view camera, also film.  Additionally, after 8 years of teaching black and white film photography, I woke up one day and thought. "Wait a minute!  Black and white film is amazing!  Why aren't I making some of that?"  I'll update social media and my website as that work continues to develop.  The second undertaking is to begin what will be a long-term project in Cornwall, England, this fall.  I;ll be photographing moon-related prehistoric sites during the full moon of late October and conferring more generally with scientists and theorists at the University of Exeter about human culture's relationship to night.  Happily, I have some experience photographing in desolate places under frigid conditions after a moon-shooting trip to Scotland in the winter of 2010, a trip made possible by the tireless efforts of Frank Konhaus and Ellen Cassilly and displayed in the Light Cache show at Craven Allen Gallery in 2011/2012.  With this work I'll also be picking back up on something I began exploring during an artist residency in 2016 at the Power Plant Gallery–projections and immersive installation art.
Many thanks to Jeanette Stokes of the Resource Center for Women in Ministry in the South for being an indispensable project whisperer on conceiving the Cornwall project.