SUE SNEDDON: LIFE SIZE
SUE SNEDDON: LIFE SIZE
Click to see current work:  SUE SNEDDON
LIFE SIZE: PAINTINGS & DRAWINGS BY SUE SNEDDON OPENS AT CRAVEN ALLEN
Durham —Life Size,  paintings & drawings by Sue Sneddon , opens at Craven Allen Gallery on Saturday, November 19th with a reception for the artist from 5 to 7 pm.  The show continues through January 28th.
One of the gallery's most popular artists, Life Size marks Sneddon's 13th exhibition at Craven Allen over more than twenty years.
Shells, rocks, fossils, leaves, feathers — for Life Size, Sue Sneddon paints these found objects to conjure a visual journey of her travels and experiences, both alone and shared.  These talismans of nature come from all across the country, including her coastal North Carolina home, as well memorable locales on the east and west coasts, the Southwest, Hawaii, and several national parks.
Life-size literally means "of natural size" — and many works are exactly to the scale of the original.  For these small pieces, Sneddon works in a variety of media, including pencil, pen and ink, oil pastel, pastel, watercolor, gouache or a mixture of these.
Also featured are Sneddon's signature panoramic oils of landscapes and seacapes, which suggest the context in which many of the small Life Size pieces were discovered.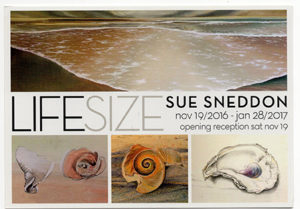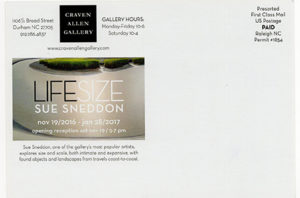 STATEMENT
Many years ago I began thinking of this concept for an exhibition after a conversation with my friend, Sharon.  Why do we pick up shells on the beach and then take some home?  We talked about solitary walks along the shore and the conversations you have with yourself—figuring out problems, making decisions, giving yourself a good talking-to about how to do better and be healthier.  You see this little treasure.  It is in perfect light, and in this moment it speaks to you of what you are experiencing and the beauty around you.
My studio is filled with boxes and shelves of shells, feathers, rocks, leaves, fossils.  Some have notations on them or attached to them with names, places, and dates.  Some still bring back a very clear memory, both visual and emotional.  Life Size is an exhibition that attempts to conjure these objects and ideas, by exploring size and scale in works ranging in size from 1-1/2" to 60".
For example, holding a rock from Yosemite, I hear our guide talk about the glacier carving out this valley, and I wonder, from this small rock, how will I capture the enormity of Half Dome or El Capitan?  How to relate the dramatic cliffs of the Napali coast of Hawaii to this tiny sand dollar?  How could this jar of red dirt and gravel suggest the grandeur of Cathedral Rock in Sedona?
In doing this body of work, I have been reminded of how much I love to draw.  My numerous sketchbooks are filled with drawings done in-the-field, the old-fashioned way, making a "hand-frame" (thumb-tips touching, index fingers extended) to find composition and measure scale.  My hand-frame measures about five inches between index fingers, and there are many smaller works done to this size.
Sometimes the smallest landscape can evoke the larger setting, the feeling of the expansiveness of the environment.  The whorl of a shell, a hurricane, a galaxy—how similar these shapes are.  How odd, I've always thought, are the square and rectangular borders placed on two-dimensional art.  There are choices to be made on how to convey the reverence and emotion inside these boundaries.  I'm still in love with trying to figure it all out.