RACHEL CAMPBELL: THE FLIP SIDE OF ORDINARY
RACHEL CAMPBELL: THE FLIP SIDE OF ORDINARY
Click to see current work:  RACHEL CAMPBELL

RACHEL CAMPBELL: THE FLIP SIDE OF ORDINARY
Paintings
ROSALIE MIDYETTE:  SHADE. SHADOW. SHAPE.
Sculpture
Durham —Painter Rachel Campbell and sculptor Rosalie Midyette  open new shows Craven Allen Gallery on Saturday, September 22, from 5 to 7 pm.
Rachel Campbell returns to Craven Allen Gallery after her blockbuster show last year with The Flip Side of Ordinary.  Campbell brings a strong color sense and lively brushwork to her subjects—which can range from trailer parks to urban neighborhoods to pastries.  "I notice things that are common and ordinary and give them a sense of playfulness and recognition."  The New Zealand native shows all over the world,  but makes her home in Durham.
New to the gallery, award-winning sculptor Rosalie Midyette is inspired by the natural sculpting of the earth's landscapes to create what she calls Terraforms—elegant sculptures in clay or bronze.  Her clay pieces are finished with mica she has gathered from streams for a subtle, durable, natural finish; works cast in bronze are layered with patinas to "illustrate wear from touch and sun." Midyette lives in Raleigh and has a B.F.A form UNC-Asheville.
The shows continue through November 3.
Craven Allen Gallery is located at 1106 ½ Broad Street in Durham.  Gallery hours are from 10 a.m. to 6 p.m. Monday through Friday, and 10 a.m. to 4 p.m. on Saturday.  For more information, please call the gallery at 286-4837 or visit www.CravenAllenGallery.com.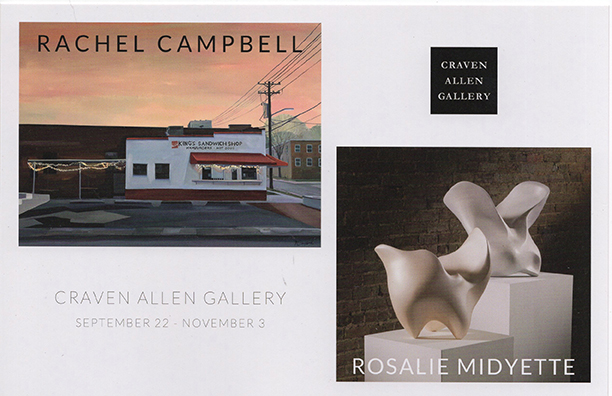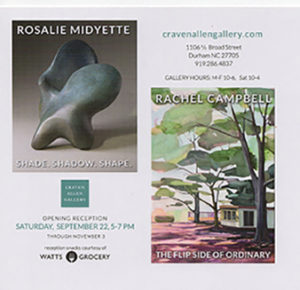 RACHEL CAMPBELL: THE FLIP SIDE OF ORDINARY
Paintings
STATEMENT
I notice things that are common and ordinary and give them a sense of playfulness and recognition. I tell their stories. I am often drawn to paint trailers and trailer parks, which are repetitive and generic in design, but distinctive and different in their details. They speak of the desire we have to be valued as individuals, but also say that none of us wants to be marginalized or overlooked. Some are trailers colored and cared for—clearly homes filled with life. Some are abandoned, strewn with leftover belongings, suggesting a past mystery that we want to know more about. In this way, all my paintings provide a glimpse of a subtle, individual story that the viewer is invited to complete.
I am a colorist, and so constantly explore the relationships between different colors, along with their emotive effects. Colors have a temperature, so their interaction is a critical element in the stories I tell. I also apply paint in degrees of thickness, moving from gestural washes to thicker, more descriptive paintwork, which pulls the viewer's focus to the key elements in the story being told.
ABOUT RACHEL CAMPBELL
Rachel Campbell is from Christchurch, New Zealand. She has lived in the USA since 2003. She went to the Otago School of Art in Dunedin, New Zealand, and the Central School of Art in Toronto, Canada.
Rachel is a visual poet who writes about the everyday, expressing her experience of life in paint. She frequently explores the urban landscapes of the American South, and of her homeland, New Zealand. Her images also invariably presuppose narratives. These often then combine to evoke the sense of belonging that we all long for, no matter what our circumstances might be.
Rachel has exhibited in the United Kingdom, Germany, and New Zealand, as well as in the USA.  She has received numerous awards and fellowships including the Emerging Artist Grant for Durham in 2013, Southern Arts Grant in the UK, and fellowships at the Vermont Studio Center and the Key West Artist Residency.
Her work is in public and private collections in many countries, including Duke University, University of NC Chapel Hill, Fidelity Investments and UNC Rex Hospital.