ROSALIE MIDYETTE: SHADE SHADOW SHAPE
ROSALIE MIDYETTE: SHADE SHADOW SHAPE
Click to see current work:  ROSALIE MIDYETTE
RACHEL CAMPBELL: THE FLIP SIDE OF ORDINARY
Paintings
 ROSALIE MIDYETTE:  SHADE. SHADOW. SHAPE.
Sculpture
Durham —Painter Rachel Campbell and sculptor Rosalie Midyette  open new shows Craven Allen Gallery on Saturday, September 22, from 5 to 7 pm.
Rachel Campbell returns to Craven Allen Gallery after her blockbuster show last year with The Flip Side of Ordinary.  Campbell brings a strong color sense and lively brushwork to her subjects—which can range from trailer parks to urban neighborhoods to pastries.  "I notice things that are common and ordinary and give them a sense of playfulness and recognition."  The New Zealand native shows all over the world,  but makes her home in Durham.
New to the gallery, award-winning sculptor Rosalie Midyette is inspired by the natural sculpting of the earth's landscapes to create what she calls Terraforms—elegant sculptures in clay or bronze.  Her clay pieces are finished with mica she has gathered from streams for a subtle, durable, natural finish; works cast in bronze are layered with patinas to "illustrate wear from touch and sun." Midyette lives in Raleigh and has a B.F.A form UNC-Asheville.
The shows continue through November 3.
Craven Allen Gallery is located at 1106 ½ Broad Street in Durham.  Gallery hours are from 10 a.m. to 6 p.m. Monday through Friday, and 10 a.m. to 4 p.m. on Saturday.  For more information, please call the gallery at 286-4837 or visit www.CravenAllenGallery.com.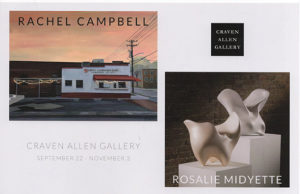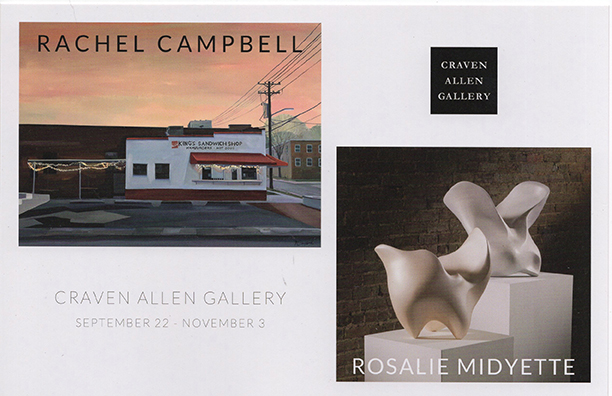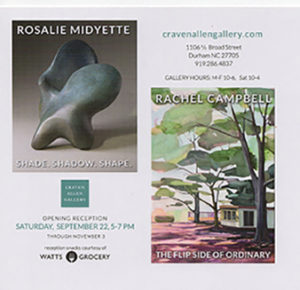 ROSALIE MIDYETTE:  SHADE. SHADOW. SHAPE.
Sculpture
STATEMENT
Inspired by the natural and infinite sculpting of the earth's landscape, I create tactile sculptures called Terraforms.  As eons of water gradually sculpt rocks, I create smoothed recessions that nod to these geological processes and the passage of time.
While completing my B.F.A. at UNC-Asheville, I hiked up the stream beds of Mitchell County and collected mica for my non-traditional surface finish. From the cold, clear water, I picked each shining flake, reminding me of my childhood's barefoot days in the creek behind my Raleigh home.
Beginning as a hollow clay pod, I push and tap to shape their curvature. These repetitive motions mimic the act of holding a stone and connecting to the earth. As an avenue for introspection, I view my product as seeds of sentiment.
The bronze work is without the delicate mica surface so it can live outdoors where my inspirations were first conceived in permanence, grace and peace in nature. Layered patinas are used to illustrate wear from touch and sun.
ABOUT ROSALIE MIDYETTE
Rosalie Midyette is a Raleigh native, working in her studio downtown.  She received her B.F.A. from UNC-Asheville where she devised her micaceous surface treatment for her sculpture, which can be seen in clay, bronze or aluminum.  She teaches private lessons as well as workshops in studios such as Claymakers in Durham and N.C. State Crafts Center.