SHAWHAN LYNCH: LIGHT FUSION GLASS
SHAWHAN LYNCH: LIGHT FUSION GLASS
Click to see current work:  SHAWHAN LYNCH
TONY ALDERMAN   WATERLINE
NEW PAINTINGS FROM THE NORTH CAROLINA COAST
SHAWHAN LYNCH   LIGHT FUSION  GLASS
Durham — Two shows, Waterline: New Paintings from the North Carolina Coast by Tony Alderman, and Light Fusion, Glass by Shawhan Lynch, open at Craven Allen Gallery on Saturday, July 13, with a reception from 5 to 7 pm.
Tony Alderman was the first staff member of Craven Allen Gallery when owners John Craven Bloedorn and Keith Allen Wenger created the gallery upon purchasing the House of Frames business in 1992.  His artistic skills were integral to the early success of the gallery and framing business, and now life has come full circle as Alderman returns there for his first solo show at the gallery.
Alderman has created a noted career in paintings featuring nautical and coastal paintings, documenting the historic fishing communities of the North Carolina Coast.  "I seek to capture in paint the convergence of the natural beauty of the coast with evidence of the lives of the people who have made their homes there.  Our coast's salt marshes and sunsets, deserted train stations, and rusting water towers and old churches make for a visual feast." Although this way of life is under threat from pressures both environmental and economic, Alderman takes inspiration in the resiliency of its residents.  His paintings are at once richly detailed, and spare in their compositions.   He lives in Durham with his wife Catherine, but travels to the coast as often as possible.
Glass artist Shawhan Lynch also takes inspiration from nature, creating "kiln-formed linear seascapes and landscapes from memories of color, shapes and textures."   Glass is worked in a complex series of steps involving both hot firing and cold work.  She makes both functional bowls and platters in addition to standalone art pieces.  She has a studio in the woods in Timberlake, North Carolina; this is her first solo exhibition.
The shows continue through August 24th.
Craven Allen Gallery is located at 1106 ½ Broad Street in Durham.  Gallery hours are 10 a.m. to 6 p.m. Monday through Friday, and 10 a.m. to 4 p.m. on Saturday.  For more information, please call the gallery at 286-4837 or visit www.CravenAllenGallery.com.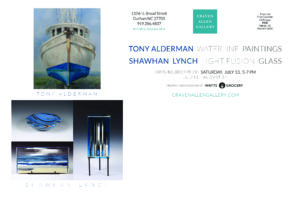 SHAWHAN LYNCH
STATEMENT
I create kiln formed linear seascapes and landscapes from memories of color, shapes and textures.  The sky at dawn or dusk is often filled with bands of color; waves make patterns in the dry sand, making it darker and almost liquid.   The vivid greens and cool blues of Iceland are so different from the hot colors of the American Southwest, and both inspire me.
Often the color of a piece of glass will trigger the start of a design.  I build my pieces with strips of cut glass that are dammed and formed in the kiln, then cold worked and fired again, either as a panel or formed using simple ceramic forms.  I create bowls and plates using stringers (long thin pieces of glass) and layer them with thicker pieces of glass to establish depth.  Each piece is then cold worked using a belt sander, a sand blaster, grinding wheels and pads, and then fired again over a ceramic mold.  I enjoy the visceral process and the sense of discovery when each piece is finished.
ABOUT SHAWHAN LYNCH
I was born an Army brat, but have made Hillsborough and most recently Timberlake, NC my home for the last thirty-seven years.  After 28 at years at Duke, I retired to help care for my sweet mother-in-law.  As her world became smaller, I needed a creative outlet I could do at home alone.  Always fascinated by glass,  I took classes at Carolina Glass.  From the first zip of the first cut I was in love.  It's been an intense labor of love.  I've since studied at the Corning Glass Studio with Marty Kremmer and Alyssa Oxley,  with Brad Walker, and at the Oatka Glass Studio.  Glass has become an integral part of my life.