STEPHEN COSTELLO: PLACES
STEPHEN COSTELLO: PLACES
Click to see current work:  STEPHEN COSTELLO
JOHN BEERMAN
THE SHAPE OF LIGHT/PAINTINGS
STEPHEN COSTELLO
PLACES/SCULPTURE
Durham —Two shows, The Shape of Light, paintings by John Beerman and Places, sculpture by Stephen Costello, open at Craven Allen Gallery on Saturday, November 16th, with a reception from 5 to 7 pm, and continue through January 25.
"I have always found the natural world a gateway to the greater mysteries and meanings of life," says John Beerman of the work in The Shape of Light, which features the intricate brushwork and subtle color harmonies for which the artist is well-known. "Whether through landscape or the human form, I try to find ways to bring forth light and life." The show includes scenes from Italy, and across North Carolina from the coast to the mountains, as well as intimate portraits ranging from quiet studies to a monumental nude.  Several paintings depict the countryside around Chatwood in Hillsborough, and Bramasole in Cortona, Italy, homes of the writer Frances Mayes, where Beerman finds inspiration. The artist lives in Hillsborough; his iconic paintings are found in major museums and collections across the country.
Also opening at Craven Allen is Stephen Costello's Places, sculptures of buildings from the humble to the grand, created from recycled materials in artist's quirky, lively style. While the exhibition includes structures from Washington, DC to Key West, locals may be particularly interested in the Durham's NC Mutual Building, depicted in its original cantilevered design (before construction challenges necessitated buttressing in the corners), as well as local icons like King's Sandwich Shop and Ayr Mount.   The artist divides his time between North Carolina and Washington, DC; this is his first major show.
Craven Allen Gallery is located at 1106 ½ Broad Street in Durham. Gallery hours are from 10 a.m. to 6 p.m. Monday through Friday, and 10 a.m. to 4 p.m. on Saturday. For more information, please call the gallery at 286-4837 or visit www.CravenAllenGallery.com.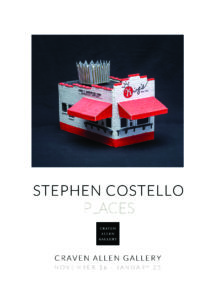 STEPHEN COSTELLO
STATEMENT
Architecture has been a fascination for most of my adult life. For the last several years, I have been making a series of architectural constructions using recycled materials. I make the sculptures to appreciate, illustrate and preserve buildings that speak to me, calling me–and, I hope, others–to look again.
ABOUT STEPHEN COSTELLO
Stephen Costello is an artist and writer who divides his time between Washington, DC and North Carolina. A Greensboro native and UNC-CH graduate, he spent many years in book selling and publishing in North Carolina, Washington, DC and New York City.
Since leaving the 9-5 world 30 years ago, he has pursued artistic endeavors, including painting, bookstore design, map making, photography, architectural writing and model making.
METHODS AND MATERIALS
Almost all my constructions start with a wine box. Other materials include cardboard, paper and coffee stir sticks.  Early constructions were inspired by vernacular architecture in the North Carolina Piedmont. They include tobacco barns, outhouses, slave quarters/kitchen and country stores. Inspirations in the Washington area include the original Adas Israel Synagogue, the Renwick Chapel in Oakwood Cemetery and the Patterson Park pagoda in Baltimore, and many commissions.