YOUSUF ZAFAR: WORLDS APART & LARRY DOWNING: MEMORY STICKS
YOUSUF ZAFAR: WORLDS APART & LARRY DOWNING: MEMORY STICKS
Click to see current work:  YOUSUF ZAFAR    LARRY DOWNING
YOUSUF ZAFAR: WORLDS APART
PHOTOGRAPHS
LARRY DOWNING:  MEMORY STICKS
POTTERY 
Durham —Worlds Apart, photographs by Yousuf Zafar, and Memory Sticks, pottery by Larry Downing, opens at Craven Allen Gallery on Saturday, May 19, with a reception from 5 to 7 pm, and continues through July 7.
Award-winning photographer Yousuf Zafar makes his solo debut at Craven Allen Gallery with a compelling body of work featuring two forgotten corners of the globe—Amboy, a community bypassed by a new interstate route in Southern California, and Myanmar, a country unknown to many Americans, on the cusp of major changes.  Zafar captures these disparate worlds with a clear-eyed integrity and stunning beauty.
Gallery favorite Larry Downing returns with Memory Sticks, stacks of ceramic sculptures which he arranges "like a poet plugs in words . . . they are as random as my thoughts and as composed as a prayer. They are playfully deliberate, borrowing from generations of clay technique, but striving for something new to say." Complementing the sculptures are a new selection of imaginative, functional pottery.
The reception with the artists will feature snacks by Watts Grocery.  Craven Allen Gallery is located at 1106 ½ Broad Street in Durham.  Gallery hours are from 10 a.m. to 6 p.m. Monday through Friday, and 10 a.m. to 4 p.m. on Saturday.  For more information, please call the gallery at 286-4837 or visit www.CravenAllenGallery.com.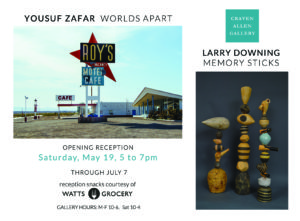 YOUSUF ZAFAR
STATEMENT
WORLDS APART
Once forgotten amongst the bustle of Southeast Asia, Myanmar is making its presence
known on the global stage, for better or for worse. Its economy is growing on the
foundation of oil and natural gas exports. Tourism is flourishing in this once closed
military state. This growth is reflected in the day-to-day lives of the Burmese, as the
heavy hand of government lifts ever so slowly. Vibrant colors pervade their work and
their worship. Yet, behind the warm and welcoming Burmese culture lurks a painful
story of oppression of the Rohingya Muslim minority. This series focuses on the
peaceful, daily lives of the Burmese that stands in stark contrast to the unspeakable
violence in the west of the country.
The second half of this exhibit is comprised of photographs from Southern California.
One of the largest economies in the world, California is often characterized by LA's glitz
or the Bay Area's innovation. But in a forgotten corner of the state, off Route 66,
between Death Valley and Joshua Tree National Park, lies the remnants of early- and
mid-century economic growth. In the 1930's the federal government sold inexpensive
parcels of land to encourage home ownership. Chasing the American dream, thousands
purchased land and built small homes. When Route 66 opened around the same time,
the town of Amboy was built as a stop along the way with a gas station, motel, school,
and church. The town grew until the 1970's, when I-40 opened, bypassing Amboy altogether.
The remaining residents were left with a struggling economy, limited
infrastructure, and the punishing desert climate.
Worlds apart, a forgotten country surges, while one of the world's wealthiest economies
hides forgotten corners of decay.
ABOUT YOUSUF ZAFAR
Yousuf Zafar is a published, award-winning photographer who has shown his work nationally in joint and solo exhibitions. He was born in Pakistan, grew up in Saudi Arabia
and Centerville, Ohio; and spent time in Sub-Saharan Africa. Today he lives in Durham, North Carolina. Yousuf's photography—influenced by his world view—focuses primarily on life in low- and middle-income countries in Africa, the Middle East, South Asia, Southeast Asia, Central America, and South America. His favorite subject matter is, quite simply, people. He is in his element spending a few hours crouching in one spot, intent on one person, as a market crowd bustles around him, as the light changes above him. Some of his work can be viewed at yousufzafar.com. Follow him on Instagram @fotoamazonas.
LARRY DOWNING
STATEMENT
MEMORY STICKS
Several sources describe an "Ebenezer" as a monumental stone chosen and set up to signify the great help God granted. After crossing the Red Sea, Moses set up stones to remind the Jews escaping slavery, of what God had done for them. I think of my stacks as notes to myself, and to those viewing them, as reminders of help. I handle and shape each form with purpose. I stack and re-stack them like a poet plugs in words, changes and reorders them. These are my musings about God's protection and help. They are both as random as my thoughts and as composed as a prayer. They are playfully deliberate, borrowing from generations of clay technique, but striving for something new to say.
ABOUT LARRY DOWNING
Born in Fayetteville, North Carolina, Downing graduated from UNC Chapel Hill with a BFA in sculpture with extensive coursework in English and Psychology. He has taught Art for thirty years in Durham, the last 23 years at Durham School of the Arts and the Durham Arts Council.
"Working with high school students has stretched me, expanding my view of the world. My work with adults helps balance the scale. I have enjoyed working with serious young artists and mature artists who want to make art materials speak their truth."  His exposure to clay as an art form goes back to making clay apples with stick stems in a neighbor's stream as a child. "Clay has always fascinated and challenged me. It is such a basic material. Clay is both free and temperamental, formless, yet loaded with potential. It holds the stories of our ancestors but is fragile and easily destroyed. The scrap piles and shards speak through the generations. I find clay a great teaching material, full of life lessons, self-correcting in its limitations and possibilities."
Downing's work has been seen in the Triangle at Somerhill Gallery for 20 years, Raleigh Contemporary Gallery, now, the Mahler Gallery for more than 25 years. Special invitations have included the National Teapot Shows at Cedar Creek Gallery and Greenhill Center for North Carolina Art. In addition to solo shows with the Durham Arts Council, He has participated in several faculty shows with both Durham Arts Council and Durham School of the Arts.