DAVID DAVENPORT
DAVID DAVENPORT
Please join us for a gallery talk with Bryant and David!
Thursday, August 12, 5-7 pm
Reception starts at 5, talk starts at 6
DAVID DAVENPORT
CHASING LIGHT
BRYANT HOLSENBECK
ANIMALS IN THE HOOD
now showing hrough September 4th
Nature is highlighted in two shows at Craven Allen Gallery: Chasing Light, paintings by David Davenport, and Animals in the Hood, mixed media sculptures of recycled materials by Bryant Holsenbeck.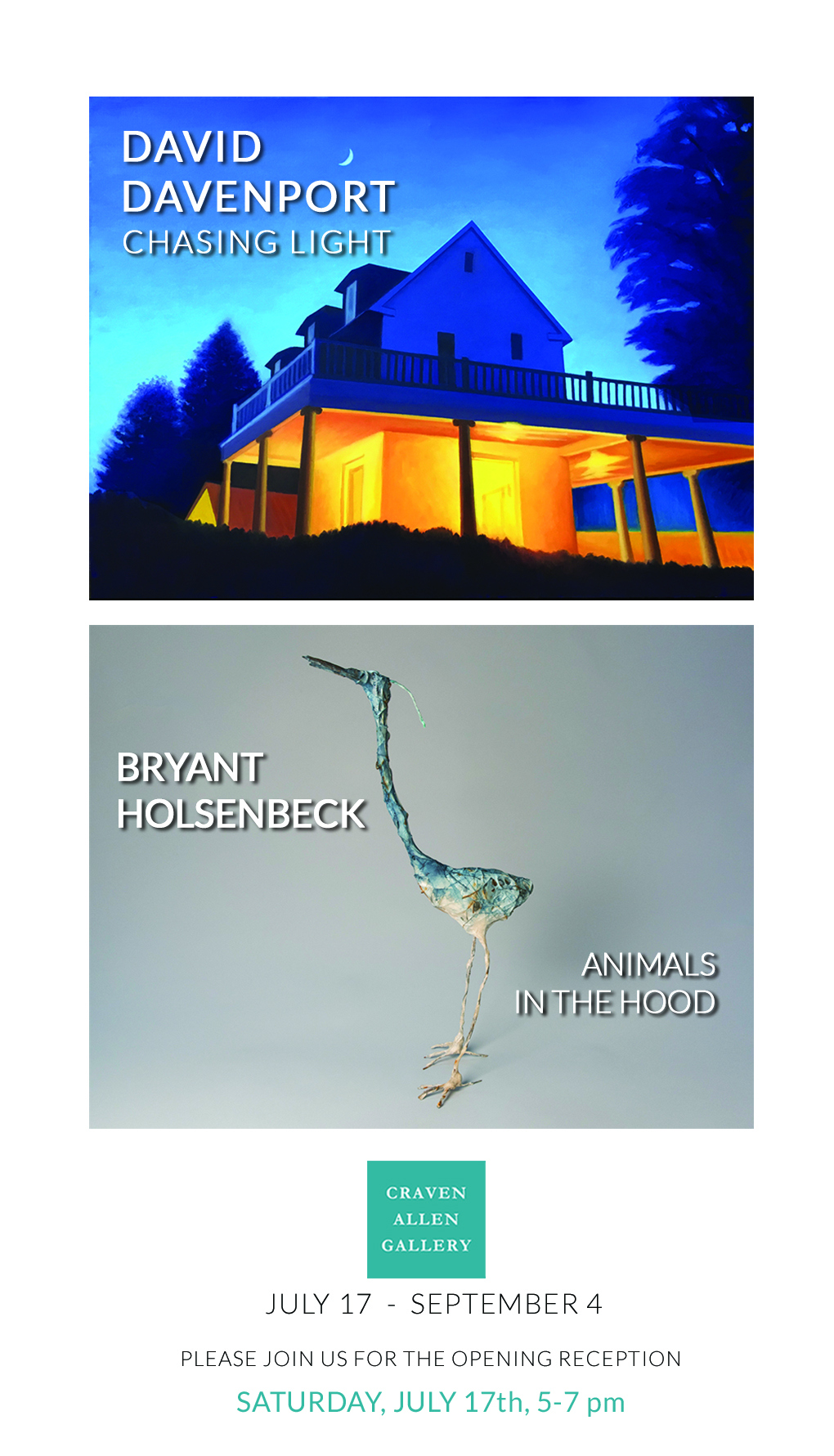 DAVID DAVENPORT
STATEMENT
In my paintings I seek to share a sense of place. I grew up in eastern North Carolina, and remain inspired by that rural landscape, returning often to explore my family's homeplace in Bear Grass, NC. My painting process combines both realism and abstraction to capture the effects of light on the landscape's houses, barns, and abandoned buildings during different times of the day and throughout the seasons. I am fascinated by the stories and mysteries stored within these weathered, ark-like structures. Sometimes I paint from the perspective of the inside of the structure, looking out – letting the mystery of what is unseen for the viewer to imagine. I often return to the same subject multiple times, experimenting with technique, color​ and scale, to know a landscape intimately — chasing the light.
ABOUT DAVID DAVENPORT
David received a BFA from East Carolina University and started his professional career as an Art Director in advertising, eventually making his way to work in NYC. While there, he attended the Art Student League and the Studio School of New York and rekindled his desire for painting. David received a Teaching Fellowship from the Department of Fine Arts at University of Maryland received his MFA in Painting in 1979. He has received several art awards and fellowships including the Skowhegan School of Painting Scholarship Award and the Yaddo Artist Colony Fellowship. More recently, David has attended several art residencies, including Vermont Studio Center and the Plein Air Invitational in the Adirondacks. His work is in private and corporate collections and exhibited in solo and group shows in galleries and museums throughout NC.  He lives in Durham.