JOHN BEERMAN: A FIELD, A WORLD
JOHN BEERMAN: A FIELD, A WORLD
Click to see current work:  JOHN BEERMAN
JOHN BEERMAN
A FIELD, A WORLD
Durham —"A Field, A World",  paintings by John Beerman, opens at Craven Allen Gallery on Saturday, November 18th, with a reception from 5 to 7 pm, and continues through January 20 .
John Beerman's iconic landscapes are found in major museums and collections across the country. For this show, the North Carolina native has selected paintings with a deep personal resonance from across the state and as far afield as New Mexico and Italy.   The exhibition features both large canvases and intimate works on paper, many painted on site outdoors.
The title of the show, A Field, A World, comes from Beerman's determination to see beauty close at hand wherever he may be.  Many works feature the countryside around Chatwood in Hillsborough, home of Frances Mayes, author of Under the Tuscan Sun, where he has stayed recently.  Another series shows a church in Hillsborough at various times of day; like Monet and his haystacks, the differences in color and light in each canvas are revealing.
The exhibition continues through January 20th.  Craven Allen Gallery is located at 1106 ½ Broad Street in Durham. Gallery hours are from 10 a.m. to 6 p.m. Monday through Friday, and 10 a.m. to 4 p.m. on Saturday. For more information, please call the gallery at 286-4837 or visit www.CravenAllenGallery.com.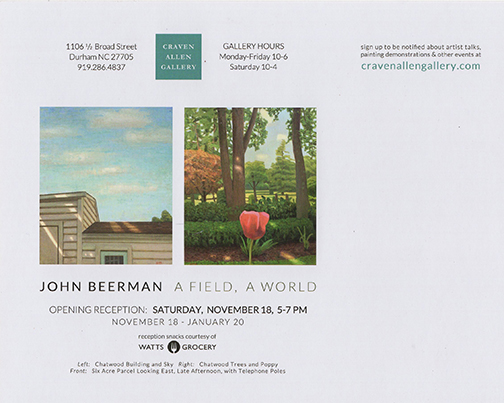 STATEMENT
I find my inspiration in landscapes and in the everyday objects of the world around us. To see freshly, to discover something luminous below the surface of the commonplace is my challenge. By laying down paint on canvas, I try to represent a moment in time with its subtle order and its specific nuances of color and light.
As a painter, I believe there is a life force in the materials I work with, whether its oils, egg tempera or some combination of these. For me, the paint itself tells its own story and my most successful paintings represent something apart from their subject matter. I hope my paintings invite you to see the visible world with new eyes, and to experience the everyday as something luminous.
ABOUT JOHN BEERMAN
John Beerman is a painter whose work has been exhibited nationally and internationally. He attended the Skowhegan School of Painting and Sculpture and earned a BFA from the Rhode Island School of Design. Beerman has received numerous awards and fellowships including the Pollack-Krasner Foundation Award and the Yaddo Artist Colony Fellowship. His work is represented in many museums including The Metropolitan Museum of Art, New York; the Museum of Fine Arts, Houston; and the Whitney Museum of American Art, New York. He has completed several public commissions including a mural in the Craftsteak restaurant at the MGM Grand, Las Vegas and recently an eighty-five foot mural in the I.M. Pei designed Milstein Family Heart Center, New York Presbyterian Hospital in New York City. He lives in Durham, North Carolina.