Thomas Sayre inspires students at the Hill Center in the Herald-Sun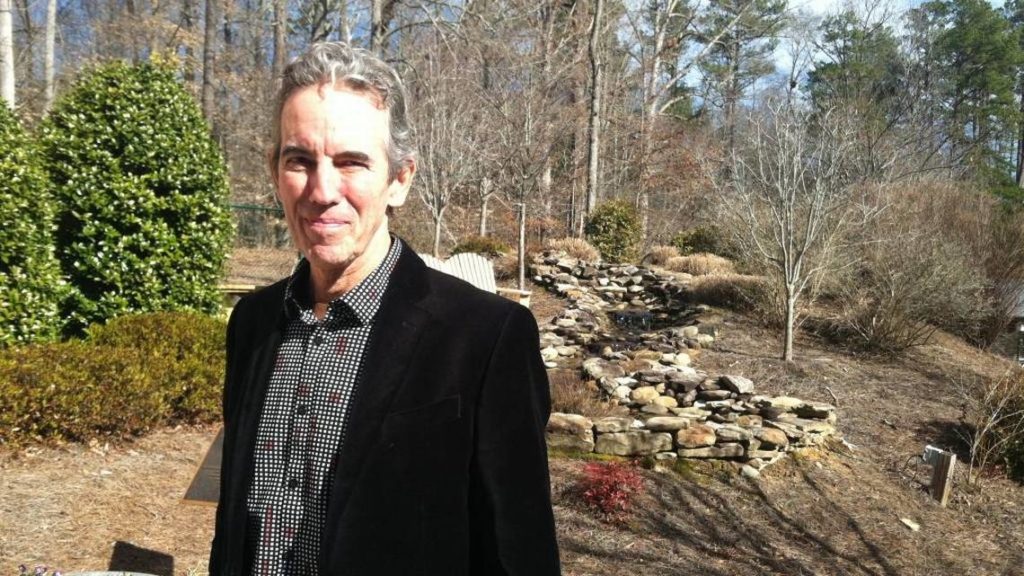 The Durham Herald-Sun recently featured Craven Allen's Thomas Sayre, sharing the story of his own learning disabilities with students at the Hill Center.  Read the original story in the Herald-Sun here.
Updated February 13, 2018 05:58 PM
DURHAM 
The story world-renowned artist Thomas Sayre told students at The Hill Centerrecently easily could have been one of theirs.
Sayre, who was at The Hill Center to help celebrate the school's 40th anniversary, recounted how he struggled with reading as a student and how he was able to overcome the challenges thrown at him by dyslexia.
From the difficulties and embarrassments suffered at the hands of a middle school teacher who was ill-equipped to teach him to the professional triumphs of being a sculptor, Sayre's story was more than inspirational. He connected with the roomful of students. He spoke their language.
Never miss a local story.
"I got help from people who knew how to help," Sayre assured them. "There will be people along the way who can help. It's not always easy."
Sayre, who grew up in Washington, D.C., before attending UNC-Chapel Hill and majoring in of all things – English – said finding an interest in something is a key to happiness. He challenged the students to find their passion and follow it.
Sayre found his interest in making things.
As a boy growing up in the shadow of Washington National Cathedral, he cast miniature lead figures. Lead scraps from roof repairs of the cathedral provided his raw materials. His favorites were soldiers but he also cast other types of figurines.
Later he learned to weld. This skill earned him enough money to buy a motorcycle that he drove across the country. He went from Washington, D.C., to San Franciso in 1969 just before enrolling at UNC.
At UNC as a Morehead-Cain Scholar, he leaned on his improvising skills.
Sayre managed to overcome his reading difficulties by relying on his sense of hearing. He took advantage of the vast collection of recordings in UNC's Wilson Library to listen to his assignments when they were available. One of his tricks was to play the records at 78 rpm rather than the normal playing speed of 33 rpm.
He listened and learned. Sometimes he got friends to read to him. And it all worked.
When Sayre decided art, especially sculpture, was going to be his life, he moved to western North Carolina to follow his interest.
Sayre built a house from the ground up, something he had never done before. But once it was finished it was his house and it was different than any other houses around, he said.
Sayre no longer owns that house but it certainly has retained a special place in his heart. It was the centerpiece of his talk. It gave him a way to tell the students that it was all right to think about things in different ways. The house looked nothing like a traditional house in a traditional neighborhood. No, this house had angles and a modern flair. It was something that hadn't been seen before in Golden Valley, he said.
"What you think of as a house might not be the same thing as what somebody else thinks is a house," Sayre said. "But it's still a house. And it's OK to think about what's weird and not weird."
Sayre also showed the types of projects he now builds. He calls them earth castings. They're big, concrete sculptures that begin with a hole in the ground.
After weeks, sometimes months of planning, Sayre starts a project by digging a hole where the sculpture will be installed. Most of the time he uses backhoes and other large-scale digging implements. The scale in which Sayre works usually is measured in yards and tons. Concrete and steel are heavy.
Sayre has placed numerous sculptures around the world. One is at the North Carolina Museum of Art in Raleigh. It's called "Gyre" and it is a set of 18-foot monumental rings that run along a greenway trail there. It was installed in 1999.
Sayre was asked where he got the confidence to pursue his interests.
"It happened in high school," Sayre said. "I had to repeat the ninth grade and I think that's where it began. I went from one of the smallest and youngest in the class to one of the oldest. I learned to not give up on the things that interest you."
Sayre still has fits of nervousness about his abilities, especially leading up to a project proposal. He's got one coming up in Texas in about 10 days that he described as a "big one."
But that's what excites him, Sayre said.
The Craven Allen Gallery in Durham will be exhibiting works by Sayre Feb. 24-April 21 as part its show called "Between Dirt and Sky." Sayre is scheduled to be at the gallery for the opening (Feb. 24, 5-7 p.m.).
The Hill Center was established in 1977 in Durham as the Hill Learning Development Center, with a mission to provide an intensive remediation program for students with specific learning disabilities or attention deficit disorders. Originally established as an adjunct program of nearby Durham Academy, in 1980 the Center was dedicated to founder George Watts Hill of Durham and renamed The Hill Center.
In 1998, The Hill Center became a separate 501(c)3 nonprofit organization with its own board of directors. Today, Hill operates as an affiliate of Durham Academy and serves a range of public and private school students, teachers, schools, and school districts in four distinct program areas: School Year Program, Summer Programs, Tutoring Programs, and Teacher Training Programs.
— Source: HillCenter.org