THOMAS SAYRE
THOMAS SAYRE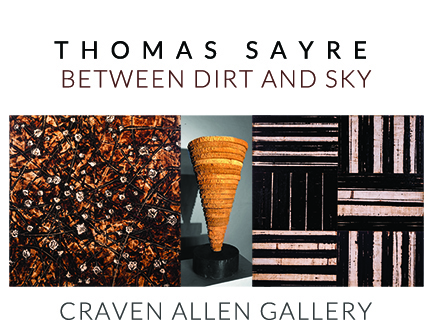 THOMAS SAYRE
BETWEEN DIRT AND SKY
GALLERY TALK: SO WHAT IS BETWEEN EARTH AND SKY?
Thomas Sayre's art is firmly rooted in landscape.  The paintings in Between Dirt and Sky are inspired the farms and barns of the rural south.  Like Sayre's iconic large-scale earthcast sculptures–found in public and private spaces all of the world—Sayre's process is intensely physical, utilizing unusual materials, including roofing tar and dirt. The images hover between abstraction and realism, with a texture and depth that give them a visceral intensity.
Between Dirt and Sky is a more intimate version of the touring installation White Gold, which premiered at CAM in Raleigh, and is currently at the Mississippi Museum of Art in Jackson.  Sayre first introduced cotton-inspired paintings as part of Craven Allen's show Medici Schmedici, which highlighted the value of collectors in the careers of artists.
Triangle residents will be familiar with the series of large earthcast rings, Gyre, which have become one of the most beloved works at the North Carolina Museum of Art. In addition to the paintings, several earthcast sculptures will also be on display at the gallery.
Craven Allen Gallery is located at 1106 ½ Broad Street in Durham. Gallery hours are from 10 a.m. to 6 p.m. Monday through Friday, and 10 a.m. to 4 p.m. on Saturday. For more information, please call the gallery at 286-4837 or visit www.CravenAllenGallery.com.
ARTIST STATEMENT
Between Dirt and Sky is an exhibition of paintings about our quirky, haunted southern landscape. Related to the touring museum exhibition entitled: White Gold (which began at CAM Raleigh), these smaller, more intimate works refer to dense agricultural fields (cotton in particular) and the barns which act as protecting sentinels, overseeing the furrows. Each of these pieces were made from somewhere between hand and mind, chance and control, beauty and tragedy . . . somewhere between dirt and sky.
ABOUT THOMAS SAYRE
Artist Thomas Sayre grew up in Washington, D. C. in the shadow of the Washington Cathedral.  He attended the University of North Carolina at Chapel Hill on a Morehead Scholarship and majored in English and studio art.  After graduating summa cum laude. He then moved to Ann Arbor, Michigan, where he was a Michigan Fellow with a three year grant from the Ford Foundation to make sculpture at the University of Michigan.  In 1975, Mr. Sayre attended the Master of Fine Arts Program at the Cranbrook Academy of Art.
Mr. Sayre works actively as a sculptor with commissioned public work in various collections across the United States with projects in Fort Lauderdale and Tampa, Florida; Denver, Colorado; Portland and Eugene, Oregon; Nashville and Chattanooga, Tennessee; San Jose and Sacramento, California; Phoenix and Tucson, Arizona, Baltimore, Maryland; and Washington D. C. Internationally, the public projects have included Istanbul, Turkey; Phuket, Thailand; Hong Kong, and Calgary and Ontario, Canada.
Thomas' recent awards include the 2012 North Carolina Award for Fine Arts and received an honorary doctorate from NC State University in the Spring of 2014.   A documentary about the life of Thomas Sayre,  Earthcaster,  was recently shown nationally on PBS.
Thomas' current work includes Oberlin Rising, a memorial in Raleigh, White Gold, a one person exhibition at the Mississippi Museum of Art, and a large new public commission in downtown Tampa, Florida.  A resident of Raleigh, Thomas is married to Joan-Ellen Deck, whom he met while touring as a professional musician in the rock and roll band, Dog Days. Together they have two daughters.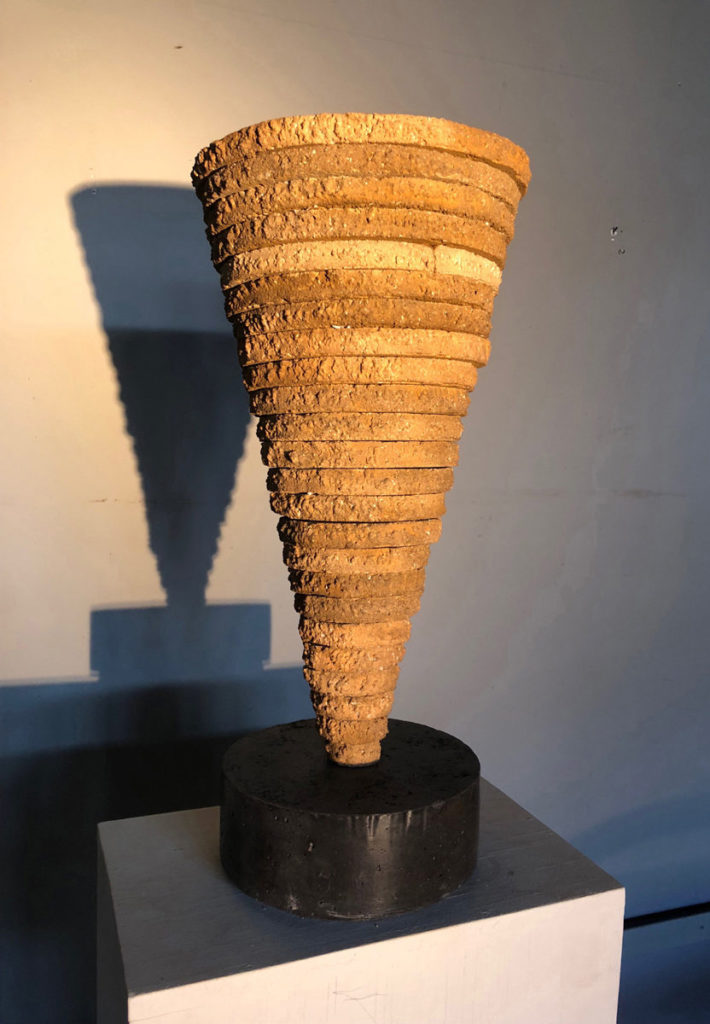 METHODS AND MATERIALS
Description of Thomas Sayre's process by Deidre S. Greben, CAM Raleigh
To create his huge mixed media panels, Sayre began where, over the past two decades, he has become most comfortable–with North Carolina's indigenous red clay soil. Here, he rubbed the dirt into the sanded, pre-laminated white Masonite boards, as if to reassert the work's connection to the place it describes. To form the sprawling tangle of cotton plant stalks, he then used sticks and nozzled bottles to fling and squirt streams of clear acrylic floor finish across the mud-stained wood surface, lining up several panels on the floor at a time so as to not interrupt his arcs of movement. To be sure, the spontaneously streaked, splashed, and dribbled markings invoke Jackson Pollock's gestural compositions. Like the New York School painter, Sayre turns our attention to the physical act of painting. But while Pollock's improvisational paint-flinging is non-representational, Sayre's draws on the physical action of portraying the cotton to evoke the labor that has been exploited in harvesting it.
Physical force is integral to his formation of the plants' downy clumps as well. After squirting puddles of bright white stain-blocker paint onto the wood panels, he then proceeded to repeatedly whack the blobs with flat sticks to create recesses in their gleaming surfaces. Using massive putty knives he fashioned from spring steel and aluminum, Sayre applied and then laboriously scraped off layers of black tar to imbue the blossoms and their willowy stalks with further definition. The successive veils of sepia-toned tar residue give Sayre's composition pictorial depth and a seductive yet discomfiting beauty.