CHARLES EDWARD WILLIAMS
CHARLES EDWARD WILLIAMS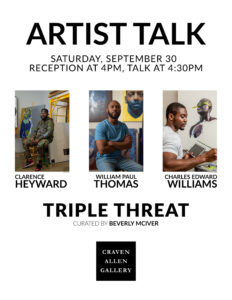 CHARLES EDWARD WILLIAMS
STATEMENT
The paintings in this exhibition, Refine, show specific quiet moments, self-portraits and landscapes, in which I confront the power of nature, of water, and the society in which I strive to create art. With each brush stroke I seek to express, in a more perfect way, a response to the complexities within our culture, history, and my own internal struggle. Water is where I am most vulnerable—it's place to intersect with my authentic self.  I encourage others to self-examine, question the false boundaries that separate us, and view the inner connectedness of our common existence.
ABOUT CHARLES EDWARD WILLIAMS
Charles Edward Williams is a contemporary visual artist from South Carolina. He holds a BFA from Savannah College of Art and Design (SCAD) in Georgia and an MFA from the University of North Carolina Greensboro (UNCG). Williams has attended summer artist residencies at Otis College of Art and Design (CA), SOMA (Mexico City, Mexico), the Gibbes Museum (SC), and the McColl Center for Art + Innovation (NC). Solo traveling exhibitions include "Sun + Light", "Warm Water" and "Swim." "Sun + Light" has been on view at Polk Museum of Art (FL), Gibbes Museum of Art (SC), and Residency Art gallery (LA). "Warm Water" has been on view at the Urban Institute for Contemporary Arts (MI), SECCA (NC), and Weber State University (UT). "Swim" was displayed at Morton Fine Art (DC). His work was also recently exhibited at Aqua and Scope Art Fair / Art Basel (FL) and Texas Contemporary Art Fair (TX).
Group exhibitions have included the Wadsworth Atheneum Museum of Art (CT), David C. Driskell Center of the University of Maryland (MD), Kunstraum Potsdam (Berlin, Germany), Barnes Foundation & Rush Arts Foundation (PA), Post Collapse Art (Zurich, Switzerland), and other domestic institutions. Works have been reviewed in local and national publications and media, including the Washington Post, NPR, and South Carolina's ETV network (PBS affiliate). During Williams' ongoing residency at Pike School of Art (MS), he created the project FORWARD, which the Andy Warhol Foundation for the Visual Arts and the Ruth Foundation for the Arts partly supported.
Permanent collections include the North Carolina Museum of Art (NC), the Gibbes Museum (SC), Georgia Museum of Art (GA), Knoxville Museum of Art (TN), Delaware Art Museum (DE), Mississippi Museum of Art (MS), Nasher Museum of Art at Duke University (NC), and the Petrucci Family Foundation Collection of African American Art (NJ). Williams also received the Riley Institute Diversity Leadership Award from the State of South Carolina for developing enriching art programs within local communities.