Madelyn Smoak
Madelyn Smoak
MADELYN SMOAK
MUDLARKING IN LONDON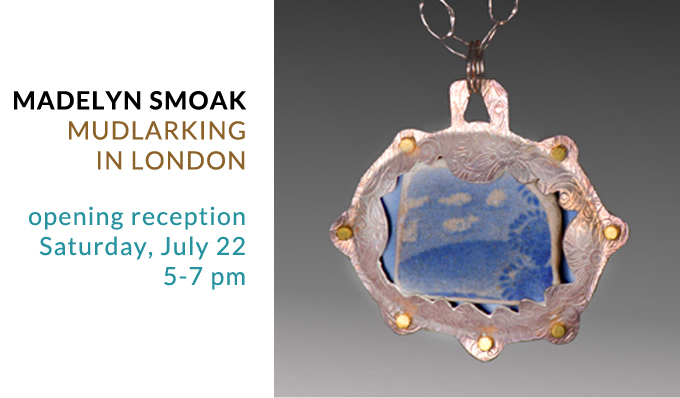 through September 16
STATEMENT
In the winter of 2013 I was honored to learn I had received a second Ella Fountain Pratt Emerging Artist grant from the Durham Arts Council.  This helped me to travel to London, England in July 2014 to go mudlarking on the Thames River.  Mudlarking is a time-honored practice of visiting the Thames at low tide to see what the waning tide has exposed on the foreshore.  Two friends and I calculated the tides tables and set forth at the Limestone access to the Thames.  We found many items including the shards and pipe fragments included in this work.  It's thrilling to think of who might have used these artifacts so long ago and what their lives may have been like.  It's not often we get a chance to wear a piece of history.
---
ABOUT MADELYN SMOAK
Madelyn Smoak came to work in metal somewhat late in life and only then after dragging metal items home from flea markets and junk stores for several years.  Metal haunted her until she finally took a class at the Savannah College of Art and Design in 2001.  She struggled after an initial phase of making beaded jewelry to learn how to become a tool-user so she could fabricate metal.  The torch was a fearsome thing with its fiery popping and snapping and the saw consumed many broken blades.  At some point the saw and other tools began to co-operate and a workshop with Bob Ebendorf opened the door to working with found objects.
Since then she has gone on to acquire additional skills through workshops at Pullen Art Center, Penland School of Crafts and Arrowmont.  She was awarded Second Place in the Durham Art Guild juried show in 2007 by Judy Chicago.  Her work appeared in Metalsmith magazine's annual Exhibition in Print in 2012 and subsequently was included in the Society of North American Goldsmiths' exhibit at SOFACHICAGO 2012. The Durham Arts Council awarded her its Ella Fountain Pratt Emerging Artist Grant in 2010, and again in 2014. Her work has appeared in numerous books and publications. She maintains a studio at Golden Belt Art Center in Durham.  This is her second show with Craven Allen Gallery.
Photography credit:   Barney Koszalka. Chapel Hill, NC